10 Main Street, 'Sconset built in the 1930's used to house 'Sconset Branch of the Great Atlantic Pacific Tea Co. This property is now home to Claudette's, named for the first professional caterer on the island, Claudette Pearl, who opened her catering business there in 1967. In less than two weeks islanders and visitors will line Main Street 'Sconset decked out in festive Daffodil Day gear, while enjoying tailgate picnics. The historical properties that line Main Street 'Sconset lead to the village's heart, the 'Sconset rotary.
The Great Atlantic & Pacific Tea Company, circa 1930
"In the eighteenth and for most of the nineteenth centuries, when town was hours away by horse-drawn carriage, there were more shops and markets catering to the summer crowd in 'Sconset and they were scattered farther from what is now the village center. But important services and businesses have been at the head of Main Street for more than a hundred years, and the center still holds.
Before the fir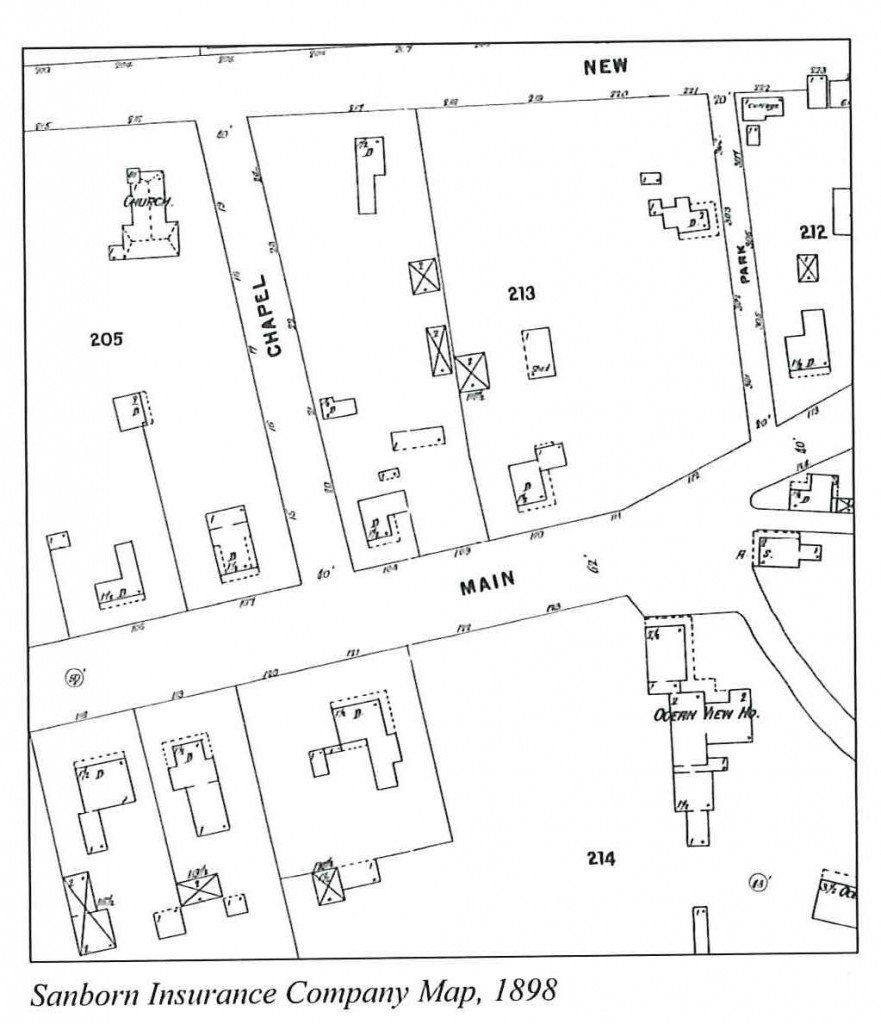 st commercial building was built at the rotary, however, the east end of Main Street, at the top of the slope that later became Gully Road, was dominated by the Ocean View House, built in 1873. As that hotel expanded and the railroad was extended to 'Sconset in the 1880's, there arose the necessity of supplying provisions and mementos for an increasing number of visitors. The earliest Sanborn Insurance Company map of the village (see below) – depicting dwellings, barns, stores, sheds, and hotels- published in 1898, shows the variety store selling souvenirs, ice cream, newspapers, and books that came to be known as the Siasconset Bookstore – a building that was less than ten years old at the time, since it does not appear on Henry Platt's 1888 map of the village. The Siasconset Bookstore is now the name of the liquor store that occupies the south half of the building; the other side is home to 'Sconset Café. The Post Office was located on Elbow Lane in 1898, in a building that has since been removed; in 1902 it moved to its rotary location, occupying a house built by James and Charlotte Gibbs in 1875.
Although the Post Office and Bookstore dominated the head of Main Street, the immediate vicinity was al the hub of all the public transportation that traveled between town and 'Sconset. Early photographs of the area show horse- drawn carriages parked there, and, after 1918, motorized buses. An open-sided, many-columned shelter stood in the middle of road, providing some protection from the elements for those who awaited a ride, although it appears that a wind-driven rain would blow right through it. The rotary as we know it- the key element that signals you have arrived in the village- was constructed in 1929. This understated architectural feature was commissioned by a group of 'Sconseters as a memorial to longtime summer resident David Gray, who had strong ties to Main Street, 'Sconset, and was a major player in the establishment of the Sankaty Head Golf Club, as well as a financial supporter of the other village projects including renovations to the Casino in the 1920s. This modest rotary was designed by a well-respected and well-known architect of the day by the name of Frederick P. Hill, who was responsible for numerous projects in the village including those financially supported by David Gray."
*Excerpt from Main Street, 'Sconset: The Houses and Their Histories
Read the complete text by purchasing your copy: HERE