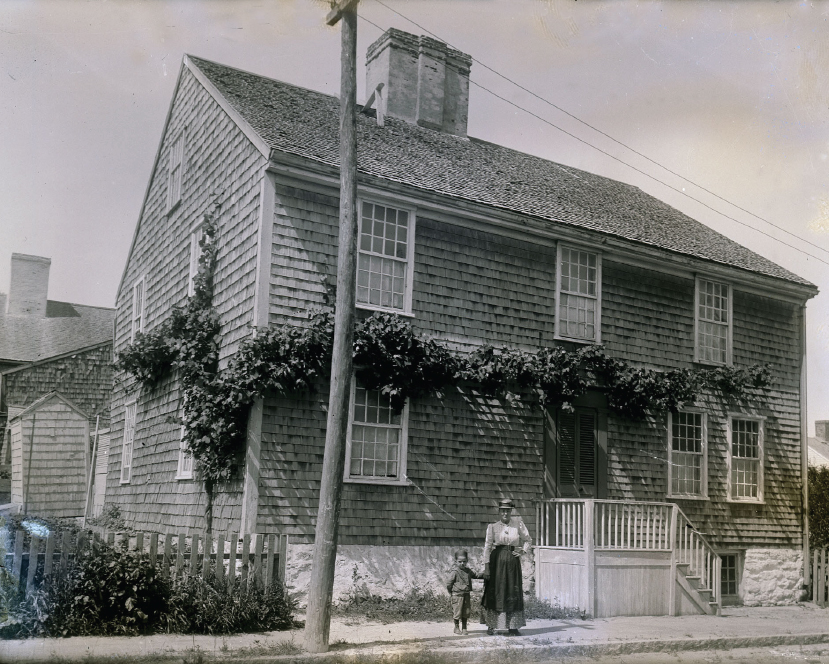 People who love Nantucket's historic architecture appreciate an opportunity to look inside a house that retains its original features.  But learning more about the home's inhabitants—those who may have built it, as well as those who came later—provides a more complete picture of why the island's historic houses are so special and why we are drawn to them.
For example, take the house at 11 Hussey Street. From the outside it looks like another old, classic Nantucket house that has evolved over the years, with no single feature that sets it apart (although a preservationist will recognize that its early windows remain intact).  But glance inside and unlock its history and you get an entirely different perspective.
The interior of 11 Hussey retains a remarkable number of historic features added over time by various owners.  Small details abound, such as an old threshold with grooves to drain water, early door hardware, a fine open-winder staircase, massive hand hewn ceiling beams and gunstock posts in room corners, a Federal mantel with reeding and dentils, original paneled doors with transoms, cupboards cleverly tucked in-between the chimney breast, a massive kitchen fireplace. It also retains later features such as the circa 1913 pantry and the kitchen's three built-in cupboards and soapstone sink—probably luxurious at the time and I bet cherished by visionary kitchen designers today.
Learn more about 11 Hussey Street by reading it's virtual House History: