The shed at 7 North Gully Road was relocated earlier this week, to a new location within Codfish Park, in the below-the-bank portion of 7 Elbow Lane, allowing a more than century-old structure to be saved from demolition. Sam Daniel sent these photos of the move in progress – click through to see more photos, and read about the history of shed, including its first move from its original location on Front Street!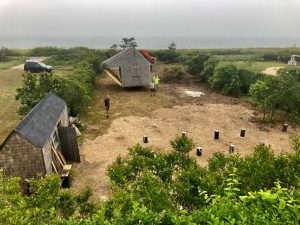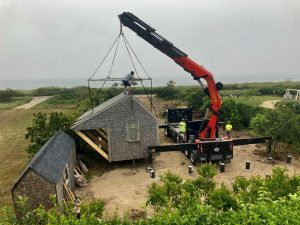 Nantucket has a long history of house moving, but this little shed is unusual for now having been moved twice.  The building was originally constructed c. 1881 as the boat house of Mizzentop,  the house at 13 Broadway in 'Sconset. In its original location, the boat house faced Front Street, behind Mizzentop.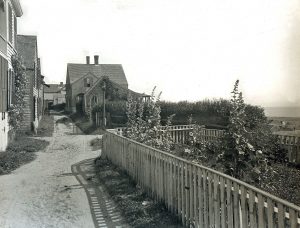 Wade Greene moved the boat house to 7 North Gully Road in 1991, and used it as an office and study. This moved caused some controversy 30 years ago, as the Historic District Commission's decision to allow the move from above the bank down into Codfish Park was appealed to the Select Board, which upheld the decision of the HDC to approve the move.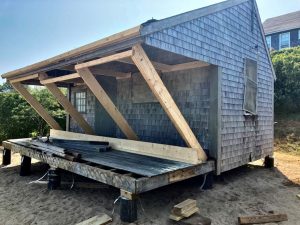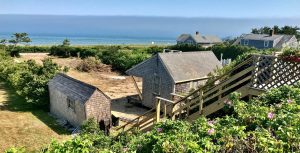 This winter, when an initial application seeking to move or demolish the shed was received, the HDC, with the recommendation of the 'Sconset Advisory Board, voted to approve a move of the shed, but only within 'Sconset. Luckily, the owners of the lot at 7 Elbow Lane accepted the historic structure, saving it from demolition. A preservation success story!