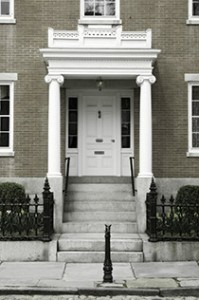 The NPT has developed a series of programs, publications and resources to assist property owners.
Let us show you what's possible…
A Nantucket House Consultation
Homeowners and realtors are encouraged to take advantage of this complimentary program that highlights the evolution of a house and its historic fabric. The program is ideal for those contemplating a renovation project and owners and a realtors looking to learn more about the structure. Several members of the interview team (architectural historian, general contractor, and/or architect) visit the house and survey its features by walking-through it from the basement to the attic. We look for tell tale signs that help establish the history of the home, point out its architectural style and special features, and determine how it changed over time. The team can also offer recommendations about renovation and maintenance concerns.  More>
House Markers
The House Marker program provides the owner of a historic house with a NPT house marker and deed research to establish the construction date and ownership through time. The House Marker program reflects pride of ownership and is an important educational tool for the entire community. Most markers note the date of construction, the builder or an early owner/occupant and his or her occupation.  More>
House Histories
A House History follows the evolution of a house from its origin in the 18th, 19th or 20th century to the present. Records, deeds and other resources are investigated to complete the house history, and each are illustrated with historic images. More>
Workshops & Demonstrations
NPT sponsors workshops and demonstration projects throughout the year for local builders and homeowners to illustrate traditional building methods.  
Historic Preservation Easements
Preservation easements, known in Massachusetts as preservation restrictions, are an important tool for property owners who want to protect their properties for future generations. This tax-favored method of controlling the future development or appearance of historic houses and gardens also provides protection to historic interiors. Each easement is tailored to the individual preferences of the property owner. More>
Walking Tours and Events
Each year NPT offers walking tours focusing on architecture and neighborhoods—their history, development and significance. The publication A Walk Down Main Street—the Houses and their Histories also serves as a self-guided history tour of one of Nantucket's finest residential streets. Tours are offered spring through fall and group tours can be scheduled throughout the year by appointment. More>