Thank you to all who attended the 2016 Event we hope you enjoyed your time!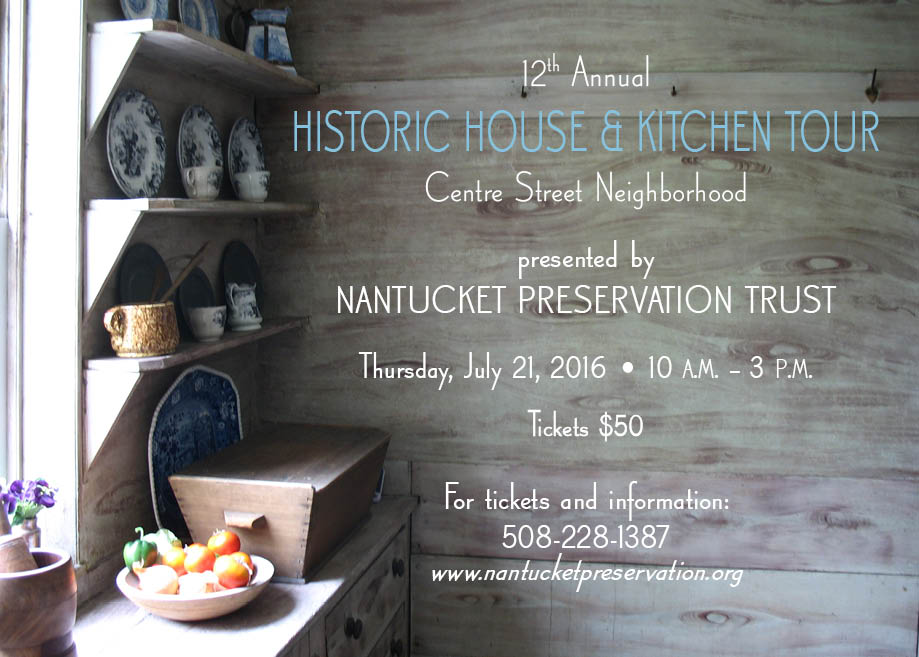 For the past eleven years the NPT has opened kitchens in an historic neighborhood in the downtown area to educate about the significance of Nantucket's historic houses and to broaden knowledge about the possibilities that exist in designing new and retaining historic kitchens in old houses. Over the years the tour has grown from a simple kitchen tour to a complete house tour. For this reason the tour's name has changed to include "house" and will now be called the Historic House and Kitchen Tour.
We thank those who attended, volunteered, opened their houses/businesses, and of course underwrote the 12th annual Historic House and Kitchen Tour (previously Summer Kitchen Tour) fundraiser. Tour goers had the chance to view historic kitchens along Center Street, Academy Lane, Nantucket's new Culinary Center on Federal Street, and the First Congregational Church. Please check back to see photos taken by Kris Kinsley Hancock Photography, you may just be in one!
The 12th Annual Tour Houses:
7 Academy Ln.
45 Centre St.
51 Centre St.
53 Centre St.
68 Centre St.
70 Centre St.
72 Centre St.
The First Congregational Church
The First Congregational Church – Parish House
Nantucket Culinary Center
We would like to thank our generous 2016 Underwriters for their support in making this event possible!
The Tile Room
The Nantucket Lightshop
The Water Closet
 COMING SOON!
2016 Summer Kitchen Tour Photos
(Courtesy of Kris Kinsley Hancock)