July 14, 2016
Great Harbor Yacht Club
Hutton Wilkinson and Flynn Kuhnert
---
Tickets Now Available To Purchase – Click Here
LIMITED SPACE!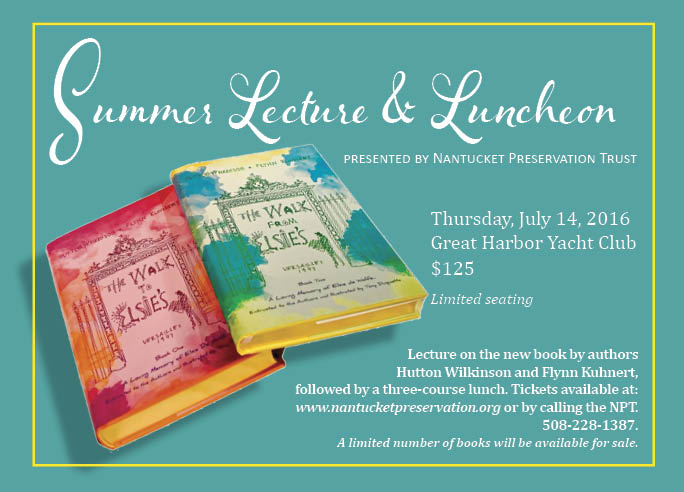 The NPT annual meeting slowly evolved into a larger event: The Summer Lecture & Luncheon. Each year attendees have had the opportunity to enjoy a fascinating speaker, whether it be an architectural historian or a renowned author.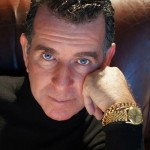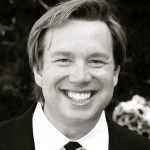 Please join us for the 2016 Summer Lecture and Luncheon featuring a presentation by Hutton Wilkinson and Flynn Kuhnert, authors of the book A Walk to Elsie's. The lecture and luncheon will take place at the gorgeous setting, The Great Harbor Yacht Club, overlooking the Nantucket Harbor on Thursday, July 14. Attendees will enjoy a three-course lunch, with wine and beverages included. A limited number of the two-volume A Walk to Elsie's will be available for purchase at the event.
Tickets cost: $125
(a portion is tax deductible)
Please note: The event is open seating for all general ticket purchases. If you would like to reserve seats tables of 10 are available to purchase, the only way to reserve your seat. Please contact the NPT office at 508-228-1387 or info@nantucketpreservation.org to learn more.
---
Elsie de Wolfe—actress, writer, and New York and Paris socialite—was the most famous interior designer of the early twentieth century. Her friend, architect Stanford White, helped her secure her first major commission: the interior of the Colony Club, New York's first social club for women. De Wolfe's success there, her extraordinary talent, and her social connections brought important commissions to her throughout her career.  De Wolfe's clients were among the rich and famous of the day, including Amy Vanderbilt, the Duke and Duchess of Windsor, and Henry Clay and Adelaide Frick. She despised all things Victorian, and her fresh feminine style with a touch of eighteenth century French elegance secured her place in interior design forever. De Wolfe's love of historic properties led her to purchase and restore the Villa Trianon in Versailles, France, which she retained throughout her design career and where she died in 1950.
---
Past lecturers Include:
 2007   Paul Goldberg
 2008   Howard Mansfield
 2009   Brian Pfieffer
 2010   Myrick Howard
 2011   Sharon N. Lorenzo
 2012   Marty Hylton
 2013   Gil Schafer
 2014   Peter Pennoyer and Ann Walker
2015    Dr. Ann Johnson
2015 Summer Lecture and Luncheon Photos