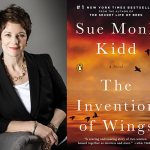 This week found FIVE events you should all attend! They may not be directly related to preservation and our mission, however we also try our best to connect with the island community by working with other non-profits and participating in community events. One Book One Island (OBOI) is a collaborative project of community partners that seeks to promote reading, literacy, and community by encouraging everyone on Nantucket to read, discuss and reflect upon the same book. Today, we encourage you all to get out there and attend one of the last opportunities to discuss and reflect upon the 2016 book:
The Invention of Wings by Sue Monk Kidd.
---
FRIDAY, MARCH 18
---
Celebrate Your Family Story Art Project & Story Telling
9AM to 11AM (ongoing)
(for children birth to 5-years old)
Community School, 56 Centre St.
Concert of Spirituals with the Community  
Starting at 6:00PM
Music Center's Youth and Women's Choruses
African Meeting House
29 York Street
*off-street parking available at Silver & Pleasant Streets
---
SATURDAY, MARCH 19
---
Family Quilting Workshop
10:00AM to Noon
for children 6 and up and their parents
Artists Association, 24 Amelia Dr.
A free workshop, but registration is required.
Please call 508-228-0722.  Class size limit is 30.
Grimke Sisters Presentation by Louise Knight  
4PM
Grimke biographer Louise Knight offers insights into their life
Nantucket Atheneum, 1 India Street.
---
SUNDAY, MARCH 20
---
FINALE!
A Charleston Buffet courtesy of Annye's Whole Food.
Music provided by The Shepcats.
5pm to 7pm
Nantucket Historical Association Whaling Museum
15 Broad St.
---
We hope to see you at some of the community events. If you didn't have the opportunity to read the 2016 book there's always next year! Make sure to check back next January to learn about the 2017 book and events.
Happy Friday!
-Marisa Holden, Marketing and Events Director
m.holden@nantucketpreservation.org