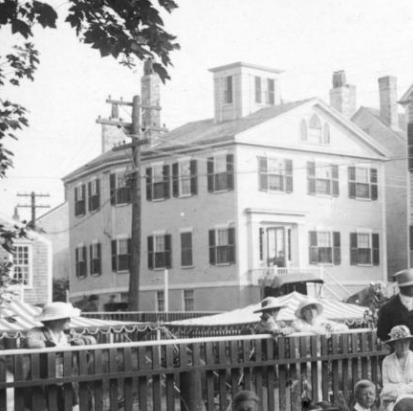 Walk a little ways up past the Pacific National Bank on Main Street, and you'll find some of the island's grandest homes.
86 Main Street, which recently underwent a careful restoration, is one Main Street's most unique designs–in that it doesn't adhere to one particular architectural style.
Built in 1834, 86 Main Street has been described as "Revival-Eclectic" by architectural historian Clay Lancaster. With elements of Federal (as seen in the end chimneys), Greek Revival (cupola, pilasters, and doorway), and Gothic Revival (lancet window in pediment) styles of architecture, 86 Main Street is indeed an eclectic house. So were the people who lived there.
Here's the story of the first two families who lived in 86 Main.
In May of 1833, Captain Joseph Allen (1773-1856) purchased "a certain lot of land in said Nantucket with the building thereon standing…"  from Edward Hussey (1794-1878), whose in-laws, Peregrine Folger (1754-1831) and Rachel Hussey (1760-1829), purchased a portion of the house from Peregrine's father, Jonathan (1727-1812), in 1797.
But the house that Captain Allen purchased in May of 1833 was not the same house that stands at the 86 Main Street today. By October 9, 1833, Captain Allen had placed an advertisement in the Inquirer for an "Old House for Sale":
"To be sold at public auction on the premises, at 2 o'clock P.M. on the 17th of the present month, if not previously disposed of, the house, late the property of Jonathan and Peregrine Folger, deceased; with all the Bricks and Stones thereto belonging, exclusive of the stones in the cellar. Also, a woodhouse belonging to the same. Both to be removed from the land by the 25th…"
Somehow or another, the house originally on the property was removed, and Captain Allen built the present structure, a large house that the Allen family occupied by late 1834 or early 1835.
Captain Allen was one of Nantucket's most prominent mariners. In 1798, he was master of the ship Leo at only twenty-five years old. Between 1798 and 1830, Allen captained seven ships on thirteen whaling voyages. Allen was married to Abigail Coffin (1775-1862) and had six children. Now retired, Captain Allen built a grand home near homes of ship owners and whale oil merchants.
Captain Allen's fortunes would soon change. In June of 1835, he mortgaged the property to the Nantucket Institution for Savings for$3,500. Shortly after the panic of 1837, Allen was forced to give up his rights to the house.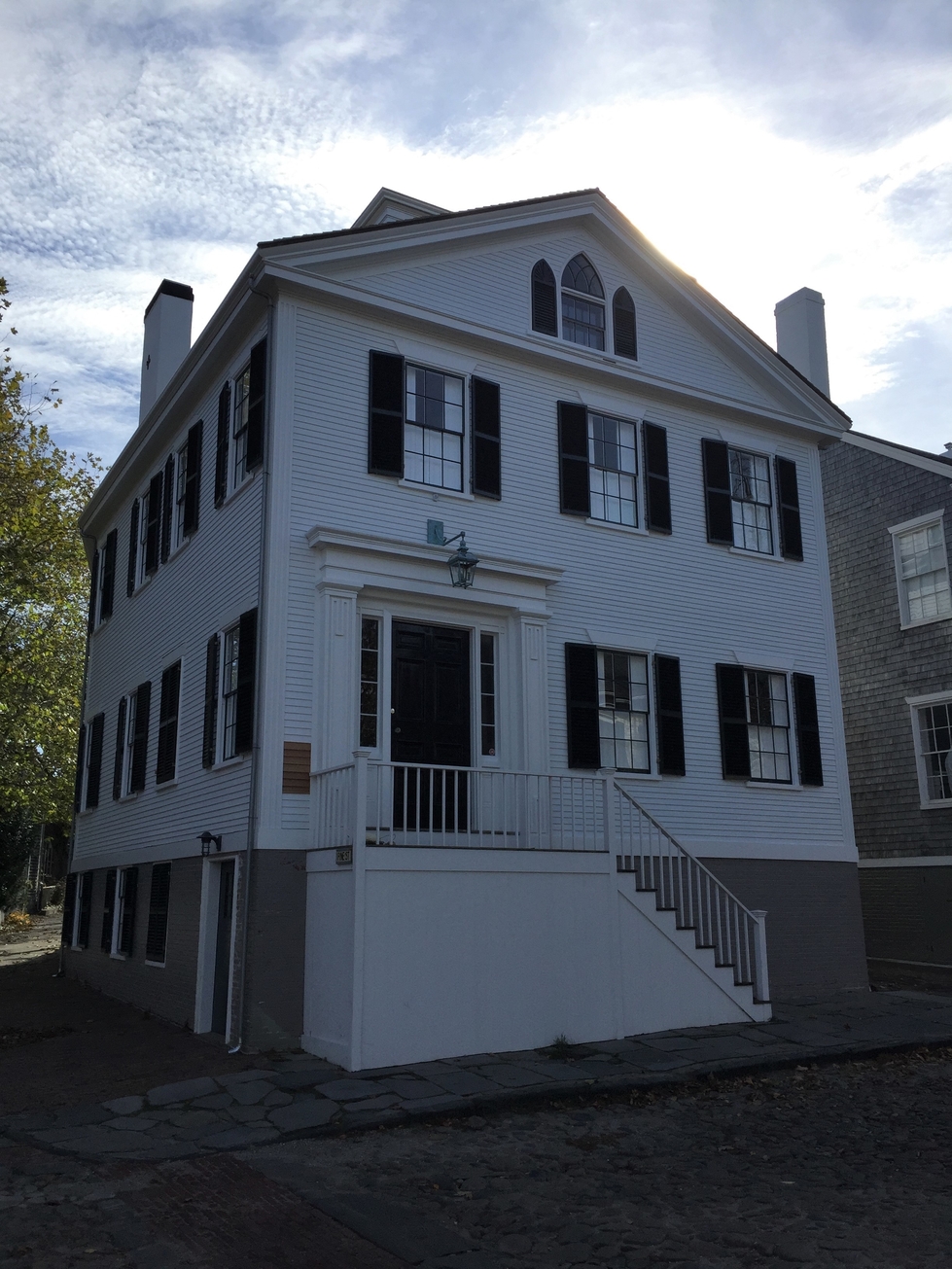 In December of 1838, Ann Crosby (1818-1904), a single woman, purchased the property from the bank for four thousand eight hundred $4,874. Ann's mother, Lydia Coffin (193-1823), died when Ann was just five years old, and was the daughter of Zenas Coffin, one of the wealthiest whale oil merchants in the state. Zenas appears to have left Ann a sizable inheritance, which was likely used to purchased the grand captain's mansion. Ann's father, Matthew Crosby (1791-1878) was also a wealthy island merchant and owned much of the land between Pine Street and Traders lane. Two months after she purchased the property, Ann and George C. Macy (1814-1895) announced their marriage intentions.
If you want to know more about 86 Main Street, and see photos and maps, click here to read our Brief History.
Are you interested in the history of your house? Call us at 508.228.1387 to learn more about our house history programs.
This blog post adapted and excerpted from 86 Main Street: A Brief History by Christine Harding for the Nantucket Preservation Trust.