Noted modernist architect Hugh Newell Jacobson died last month at the age of 91. Jacobson and his Washington D.C-based firm, Jacobson Architecture, primarily worked in residential architecture, and completed a number of projects on Nantucket. Jacobson studied fine arts at the University of Maryland and earned a master's degree in architecture from Yale University in 1955. His first job out of Yale was with Philip Johnson, and he founded his own firm in 1958. His designs were sometimes referred to as Monopoly houses, for their resemblance to the board game pieces, with simple massing and steeply pitched gables.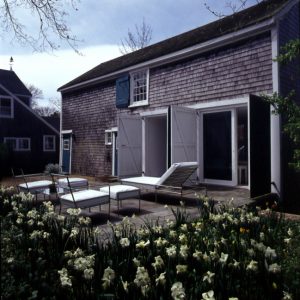 In 2003, Jacobson completed a renovation of the Vorhees Barn on Liberty Street. The building was originally constructed as a stable, an outbuilding of the Henry Coffin house at  nearby 75 Main Street. The structure retains full height barn doors on the exterior, but when opened, the all-white interior, a hallmark of Jabobson's designs, is flooded with light. The design won an award for Excellence in Architecture from the Washington chapter of the American Institute of Architects.
Jacobson once told the Washington Star "Good architecture never shouts. It is like a well-mannered lady, kind to its neighbors. It takes a double take to know that she is there at all."
One of Jacobson's most well-known designs was Jackie Kennedy Onassis' Red Gate Farm on Martha's Vineyard, which was completed in 1981. Jacobson took inspiration from neighboring Nantucket for the project, saying "[Jackie] wanted it to look like Nantucket. Nantucket is filled with 19th century architecture, so she wanted a modern house that looked like a 19th century house."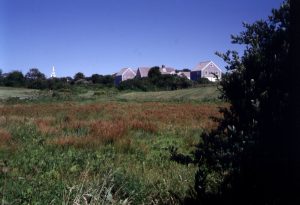 Jacobson Architecture's designs for new houses on Nantucket reflect the firms hallmark of simple gabled structures and take cues from 19th century island homes. A home overlooking Polpis Harbor features and exaggerated central chimney pass. A 2013 design by Simon Jacobson on Middle Valley Road is composed of 12 small, interconnected cottages, which also won an Award for Architecture from the Washington chapter of the American Institute of Architects.
Jacobson's work on island reimagined historic forms in modernist contexts and exemplifies the opportunities for creativity and innovation that exist within the guidelines set forth in Building With Nantucket In Mind. It also serves as a reminder that Nantucket's architectural landscape is always evolving, and sensitively designed 20th and 21st century buildings already contribute to the island's sense of place.