Businesses with au currant open-plan offices are now spending thousands to revert to health protecting partitions. Covid-19 has also caused a reassessment of the value of an open plan in domestic architecture, but for different reasons. With everyone at home trying to get some work done, what they need is a good ole house with interior walls and doors. My daughter who is practicing law from her dining room in Washington DC is very grateful that she opted out of a spacious open plan apartment in favor of a small Victorian house. Her husband works from a room on the second floor. It took a pandemic to bring home the wisdom of old houses. Too bad it came too late for house gutters.
My Pine Street house was built in 1819 by a man named Walter Cure who had had four children in the previous seven years. The house's lack of ornament suggests he was in a hurry to tuck them in. It has a wonderfully ordinary Nantucket floor plan meaning that it's a square box with a chimney down the center. Even so the box accommodates a living room, dining room, den downstairs, and upstairs three bedrooms. Like most Nantucket houses there is a one story shed of a kitchen in the back and a "wort" on the front side that affords an additional bedroom. It doesn't really matter that the rooms are small; what matters is that when Josiah, the first born, needed a quick exit from his younger brothers Charles and John, he had plenty of options. He could run into bedrooms and dens and slam any of six doors.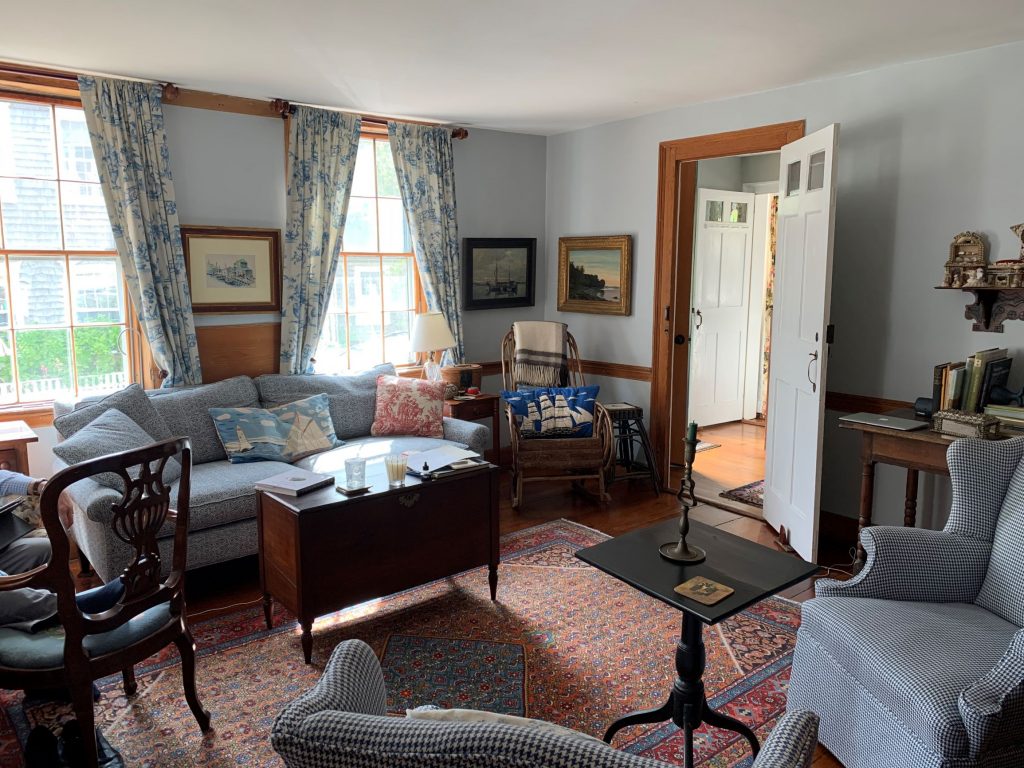 I am sharing my 14 day quarantine in my Nantucket house with a couple who came with me from Philadelphia. We designated ourselves a "safe pod" at the start of Philadelphia's stay-at-home order. Now we are alternatively working, reading and socializing in rooms that for two hundred years, graciously offered privacy when desired. One can work on the dining room table, another in the den, and another in the living room. When we sit with our books, newspapers or laptops around the kitchen island it means we are inviting interruption and sharing. But when we sit in different rooms, it means that we need to concentrate.
We all hope that normal healthy life will return. But many believe it will be altered by the values realized in the crisis. These values include flexibility in where and when we work and new ways to make contact with others. Even seaside retreats might no longer function primarily as party spaces. In the past months many Nantucket houses have needed to shelter working people who rightly panic at the sight of a vast living room, dining room, kitchen expanse. Might heart goes out to them…sort of.
---
Sherry Lefevre is a writer based in Philadelphia and Nantucket. She is the author of The Heirloom House: How eBay and I Decorated and Furnished my Nantucket Home.