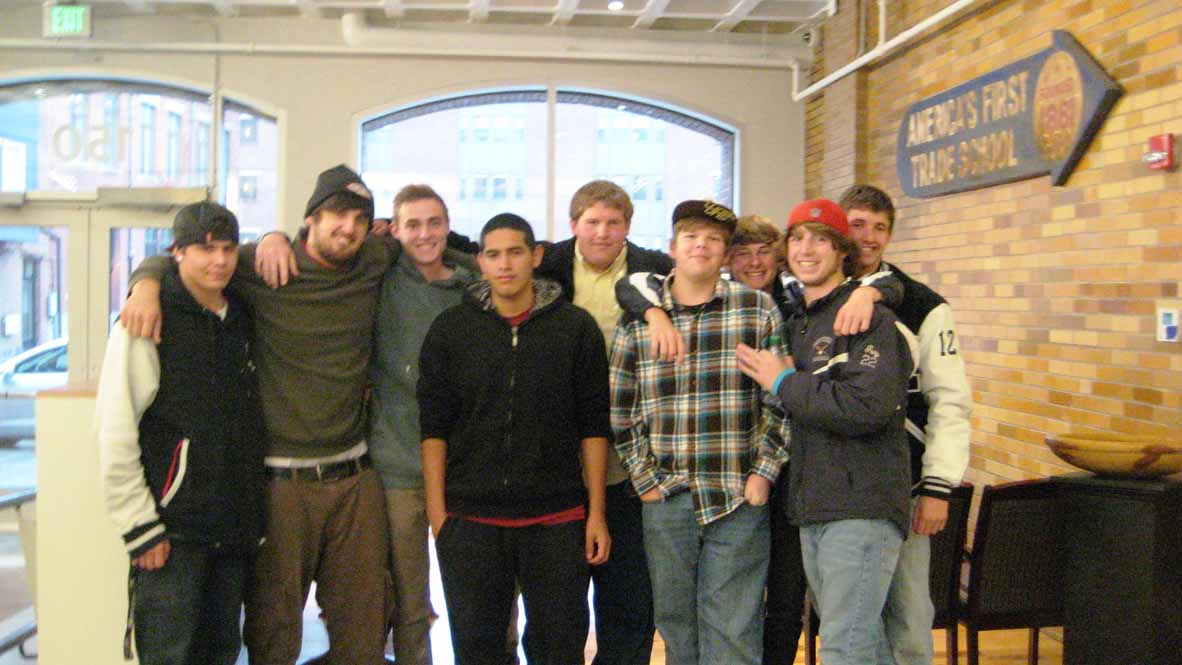 Friday, November 22nd Nantucket High School construction-tech students, Mr. Colley (construction-tech teacher), Sheriff Perelman and Marisa Holden, Marketing Associate visited the North Bennet Street School. The school offers programs which train students for careers in traditional trades one being Preservation Carpentry. The NPT's scholarship gives top priority to applicants who are accepted into this program and therefore the NPT funds field trips to NBSS. Trips such as these allow students to gain a greater insight into the school itself and learn what it can offer them.
During this past field trip students toured the brand new campus, located in Boston's North End, viewed classrooms with students actively working and met with current teachers.  Rob O'Dwyer, head of admissions at NBSS began the day by bringing the students directly into a preservation carpentry classroom. He then gave a quick overview of the school itself but also explained to the students the dedication one must have in order to complete the school's programs. The students were given a tour of the school and its various classrooms. They even made a stop into the Violin Making and Repair section where they were lucky enough to be serenaded, by a current student! Considering the school's programs are extremely small (under 200 enrolled students in total) all classrooms were located in one building and it therefore was a brief tour.
Students than had a break to go enjoy Boston's North End and its scrumptious food! Pizza and Cannoli's seemed to be the preference for most students, considering they were surrounded by amazing Italian eateries. After indulging in a bit of off-island food they were then brought into the Preservation Carpentry II classroom, in order to learn a bit more of the program. Rich Friberg, the head of the Preservation Carpentry Program showed the students around the classroom explaining some of the larger wood saws and answering any questions the students had. He brought the students attention to a large amount of wood, which earlier that day his students had unfinished loading from their recent trip to New Hampshire. Luckily time allowed for Rich to explain via photos on his computer the largest project, which his second year students had undertaken. This entailed restoring the lantern for the steeple of the First Parish Church in Dorchester and also viewing the massive production as the new lantern was lifted into place.
To learn more about the NPT Scholarship and view photographs of the recent field trip Click Here.