Friday, January 8 at 10 AM the Historic District Commission will hold a special meeting to hear a proposal to renovate and relocate on its lot  the home at 27 North Liberty Street.  Click here to view the proposed plans and other supporting documentation. View the meeting agenda here.
---
Threatened: North Liberty Streetscape
In 2014, the North Liberty streetscape near the Lily Pond was threatened by a controversial application to move a barn off the property at 29 North Liberty Street. The proposal was denied by the Historic District Commission (HDC) but overturned by the Select Board on an appeal. Later, the HDC reversed their own decision and approved the move. An appeal in Nantucket Superior Court resulted in the upholding of the HDC's original denial. A later appeal in State appeals court also upheld the HDC's initial denial.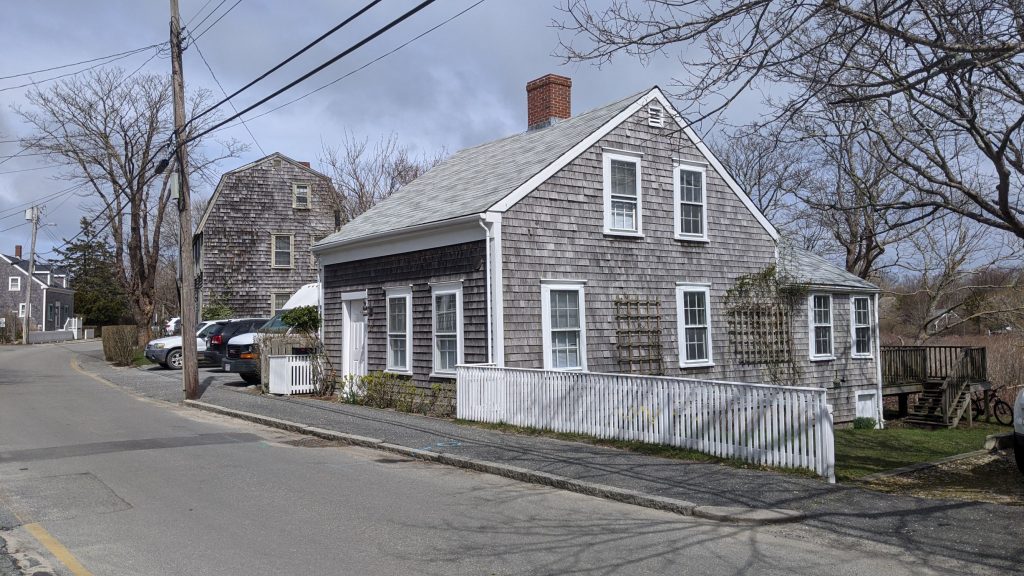 The same developer now desires to move a cottage at 27 North Liberty Street. The home, built in 1798, was originally the Seth Ray cooper's shop. This time, the requested move is not off the lot, but rather six feet to the southeast on the current lot, with plans to relocate the barn on the property next door. What may seem to some as slight alterations are concerning to preservationists as moving historic structures should only be done as a last resort to demolition.
It is true that Nantucket has a long tradition of house moving to ensure a structure is not abandoned or demolished, but instead reused in a thoughtful way. It is unsettling when this practice is repurposed in an attempt to justify moving a structure on the same lot.
The proposed moving of structures on North Liberty Street threatens the historic fabric of the buildings, and the streetscape itself.
---
This article originally appeared in the 2020 edition of Ramblings.