"You know you really don't have to come.  It's just a formality of signing checks and documents.  Just mail them in; the attorneys will take care of the rest."
My realtor was trying to tell me that it wasn't necessary to fly from London where I worked, to attend the settlement of my first Nantucket house.
But, I was determined … Even if it was "off season", rainy and cold.
"You know how long I've pined for a place here, Robert!  I'm coming!"
I'd long ago fell in love with this small strip of well-preserved sand called Nantucket; spending summers during college in a room rented on Centre Street from a nice elderly lady; and later during my years in NYC – avoiding the LIE/Hamptons crawl for long weekends in one or the other of precious few town rentals that would permit a well-mannered dog.
Now finally, there would be a set of keys belonging to me!  Keys that fit the door of a house built in 1837 … A door that swung open for 19 former custodians before I knew it existed.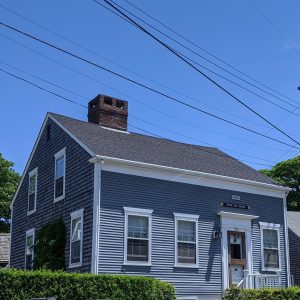 Continue reading They Don't Make Them Like They Used To, by Mary-Adair Macaire →