By Mary Bergman, guest blogger
You may know that Nantucket has one of the largest concentrations of pre-Civil War era buildings and homes in the country (more than 800 in total), but just how many of these buildings have kept their historic integrity intact behind closed doors? The Nantucket Preservation Trust (NPT),  in partnership with Preservation Institute Nantucket (PIN) have set out to answer this complicated question. Since 2014, the two organizations have worked together to comb through records, compile information, evaluate and rank interiors, and build a database as part of an unprecedented Historic Interiors Survey.
As summer winds down, interns at both organizations have made great strides in ensuring the creation of this important record. Currently, of the 979 properties in the downtown historic core, information is available on nearly half. Using Historic American Building Survey records, photos from real estate offices, Historic District Commission applications, 3-D laser scans, and the help of owners of historic homes, a good dent is being made in the remaining properties. But there are still 405 properties with no information publicly available, NPT intern and PIN alumna Laura Seaman explained recently.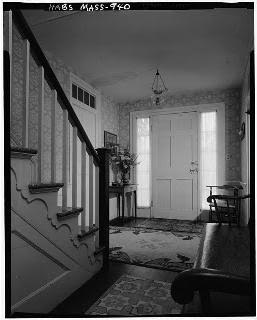 Of the buildings on which information is available, 76 are ranked 1, indicating the highest level of historic integrity, and 194 are ranked either 1 or 2, indicating that changes have been made, but not overwhelmingly so. 128 structures surveyed have been heavily altered, or gutted.
Why is this information important to collect? "You need to know what you need to protect," PIN Program Director Marty Hylton explained. Luckily for Nantucket, PIN has long been concerned with documenting Nantucket's built environment.
When preservationist F. Blair Reeves and his students arrived on Nantucket as part of the newly-revamped Historic American Buildings Survey (HABS) in the 1960s, the island they had come to document was on the brink of another rebirth. Suddenly swarmed with surges of summer tourists, some of Nantucket's old-world charm had taken on a decidedly derelict look by the end of World War II.
Once a prosperous whaling port known from Barbados to New Zealand, Nantucket's economy all but collapsed after the end of the whaling industry in the 1850s. It was this period of poverty that slowed development and kept the island as though frozen in amber. Rebranded as a place of rest and relaxation at the turn of the last century, Nantucket was once again on the map.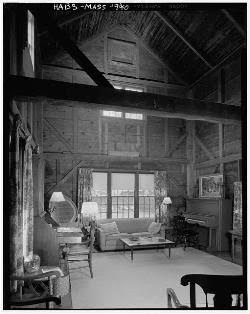 The island's many pre-Civil War era buildings have made it a perfect classroom for preservationists. Reeves, a professor at the University of Florida who had been randomly assigned to document Nantucket as part of HABS two years in a row, had arranged for students to make up the documentary team. Reeves' approach to historic preservation was all-encompassing. Instead of focusing on landmarks–buildings that corresponded to certain events or persons in history–Reeves worked to study structures typical to Nantucket. Additionally, Reeves considered the whole environment in a streetscape or neighborhood, not just the structures themselves.
Reeves was not the only preservationist at work on the island. Walter Beinecke, Jr., had purchased and repaired much of the decaying downtown. His motivations for preserving the island's waterfront and downtown core were numerous, and he admired Reeves' efforts. In 1972, Reeves and Beinecke established the Preservation Institute Nantucket (PIN), now an internationally known immersive heritage management program with a focus on documentation. From drafting drawings to 3-D scans, PIN has helped create a robust record of the island's historic homes. Some, sadly, now only exist between the pages of these binders, having met an unfortunate yet increasingly common end of being irrevocably altered.
To those of us who do not own historic homes, or live within the downtown core, why is this significant? Laura Seaman, who is working towards a dual degree in tourism and historic preservation, explains that there is unparalleled value in preserving the entirely of the house, beyond the facade. This authenticity is a large part of the reason people love to live, visit, and vacation on Nantucket. Without this historic integrity, Nantucket's economic engine could falter. Virtually every industry on Nantucket is tied to tourism. People come to Nantucket because it feels like nowhere else. Preservation might be the closest you can come to time travel.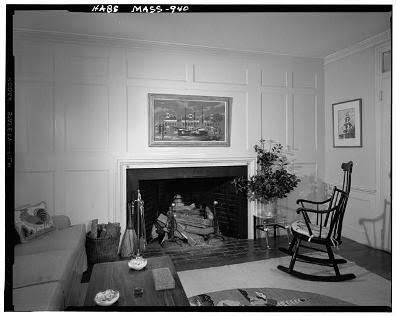 A Historic Interior Survey of this magnitude has not been completed elsewhere. It is an excellent example of the Nantucket spirit–islanders helping islanders. Although PIN's winter home is the University of Florida, after more than 50 years on the island, the students, faculty, and lecturers are truly part of the Nantucket community. These dedicated researchers work in concert with the NPT. As an advocacy group, "NPT identifies the need," Hylton said, "PIN finds how we can help."
You can help, too! Are you the owner of a historic home in town? The NPT is actively seeking your help to fill in the gaps of the survey. You can make a huge difference to the island's preservation efforts by taking an online survey by clicking here [http://bit.ly/NantucketInteriorSurvey]. Consider having a full survey completed and photographs taken of your house, now that summer guests are packing up and the island is a bit quieter.
If you have ever walked through Nantucket's side streets in the still of a winter evening, woodsmoke curling out a chimney, and felt transported to another time, then you already know how vital these original buildings are. They are one of our most direct links to the past, to the people who came before. What we do with them, if we save them or if we destroy them, speaks to who we are as a community today.