♦ Only 300 Tickets Available to Purchase! ♦
Don't Wait….Get Yours Today!

---
The Nantucket Preservation Trust is honored to be the first Nantucket beneficiary of Cape Associates, Inc. playhouse donation program. The program, started in 2001 by the late Michael Cole, has grown from one annual playhouse donation, to now two, which are given to two different no
n-profits annual in support if their causes. To date a total of 27 playhouses have been built and over $120,000 raised for the nonprofit recipients, over the past 15 years. To learn more about Cape Associates Inc., a lead custom home building company based in Eastham, MA please click on the company logo seen above.

In 2015 after learning of the program, thanks to past employee Heather Burke, whom has since returned to her Cape Cod based residence, the NPT contacted Cape Associates, Inc. and was added to the (long) wait-list. Only a year later the NPT received was notified with some good news, and thrilled to hear they were one of the two, annual recipients who had been offered the playhouse
! On June, 15, 2016 Lindsay Cole, who is Cape Associate Inc.'s Human Resource Manager and the daughter of Michael Cole (program founder), sent an email with the ecxciting opportunity.
Unfortunately, being the first Nantucket island non-profit, there were a few logistical hurdles, which had to be accounted for prior to accepting the offer.

Luckily, we are surrounded by a supportive and small community, that often times lends a helping hand. In order to have the playhouse moved to the island, the NPT was told due to the additional transportation needed, in comparison to past recipients, the costs to move it across the ocean was in our hands. After reaching out to a few local businesses we had the issue
d resolved and were happy to say, yes the NPT would graciously accept
the donation.
We would like to e

xtend our thanks to the three businesses f
or their s
upport in making this possible: Shepley Wood Supply who handled the overseas delivery from Cape Cod to Nantucket, Bartlett's Farm for providing a location to publically display the house (next to children's playset at the market) a
nd agreed to sell raffle tickets, and
Bamber Trucking for offering delivery of the playhouse to it
's fi
n
al island "home" (winner will be responsible for any off-island de

livery plans)

.
I
n late June, after signing on the playhouse creation process quickly began
. Cole, helped relay important design plans to her fellow co-workers, and helped arrange (with the island businesses and NPT) delivery of the playhouse from Cape Cod to Nantucket.
We gave NPT the option to give us design ideas for the playhouse and we ended up using a design sketched by Michael May. Our in-house designer tweaked the plans, and two carpenters built it in about two weeks. They used red cedar shingles for the sidewall and roof and stainless staples so as not to puncture the roof and potentially hurt a child inside of it. Underneath the playhouse are 4×4 timbers for support. –

Lindsay Cole, Cape Associate's Inc., Human Resource Manager
Michael May, NPT Executive Director fashioned the playhouse to be a "Lean-To House", a common architectural style seen on Nantucket. The exterior includes many typical Nantucket features see below:

Architectural Style a "Lean-To House"

Exterior trim paint is Quaker Grey an HDC approved paint color

Features a shingled, redwood, exterior

One window box accompanies the front window


Includes a "red-brick" chimney

Trellis for flowers featured on the left side's exterior

Size:

8′ x 5′ x 9′

Michael May, NPT Executive Director's Original Design Plan
Michael's sketch was completed and submitted in late July. Cape Associates, Inc., reviewed the plans and within a couple weeks the renderings were ready, and sent over to the NPT for a sneak peak. Everything fell right into place and the playhouse was brought over on a Shepley flatbed truck, arriving on island September, 1st.
The playhouse is now on display at Bartlett's Farm Market, 33 Bartlett Farm Road. It will remain on display until the winner has been drawn on the Sunday of, Nantucket's Annual Stroll Festival: December 4th. We encourage you to stop Bartlett's farm VIEW (no entry allowed) the playhouse, and purchase raffle ticket(s) at the designated cashier inside the farm's market (look for the sign). The raffle ends on Sunday, December 4th, or once all 300 tickets have sold and the winner will be drawn on December, 4. Winner need not be present to win.
For those who are not on island or are not frequent visitors of Bartlett's Farm tickets for can also be purchased in one of the following ways:
---
CALL THE NPT OFFICE:
508-228-1387
---
VISIT THE NPT OFFICE:
55 Main Street, 3rd floor
Office hours: 9AM to 5PM – Monday – Friday
---
EMAIL:
info@nantucketpreservation.org
---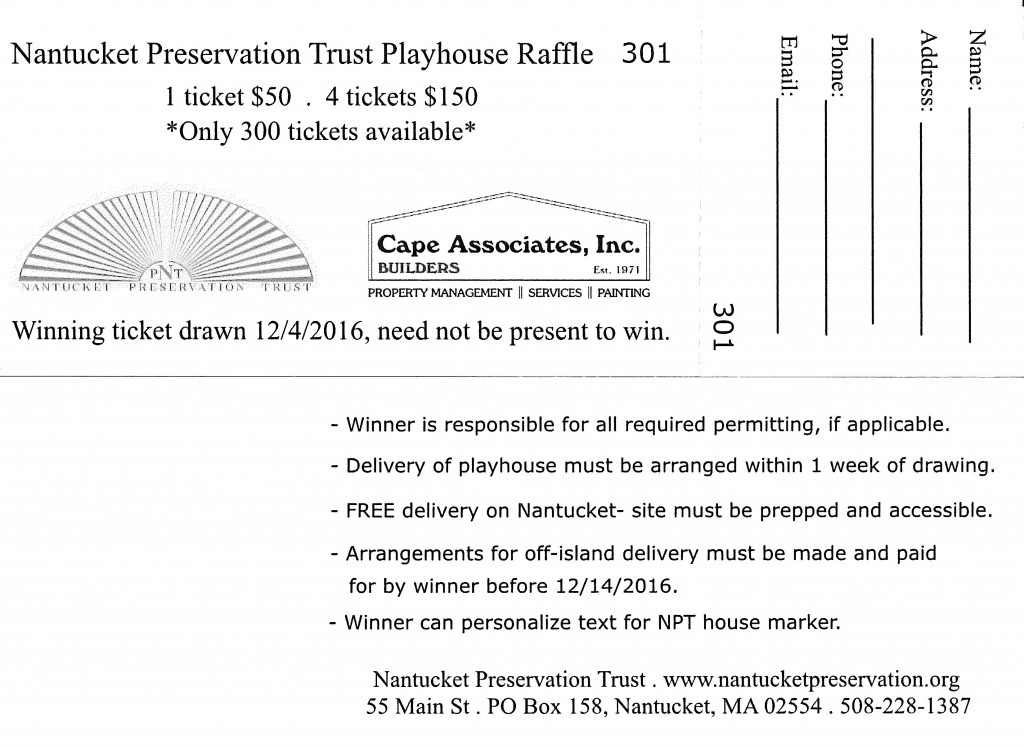 ---