"Wabi" and "sabi" are linked Japanese aesthetic concepts that help explain what all of us love about Nantucket. Wabi denotes something with simple, rustic beauty – maybe even with a small flaw that makes it unique. Sabi means something whose beauty grows with age.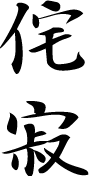 On this island, all of us shouold celebrate the wabi-sabi that surrounds us – the cobble-stoned street, the old and wavy window glass, the worn stair tread, and the uneven plaster that shows the mark of time. We believe in wabi-sabi. Do you?
– From Ramblings 2008
BECOME A 2015 MEMBER TODAY!