"Traders was not what I was looking for, but I stumbled upon it," Ed Mills says of the Peleg Bunker house at 4 Traders Lane. Ed and his wife had been riding their bikes around the island and seen an ad for 4 Trader's Lane. They biked past the house and stopped to take a look. "At that moment, Mr. Gosh came outside and said, "Hey, do you want to buy a house?" He invited us in, we walked around, and the seed was planted. My natural instinct to want to fix up the building came to the surface," Ed says.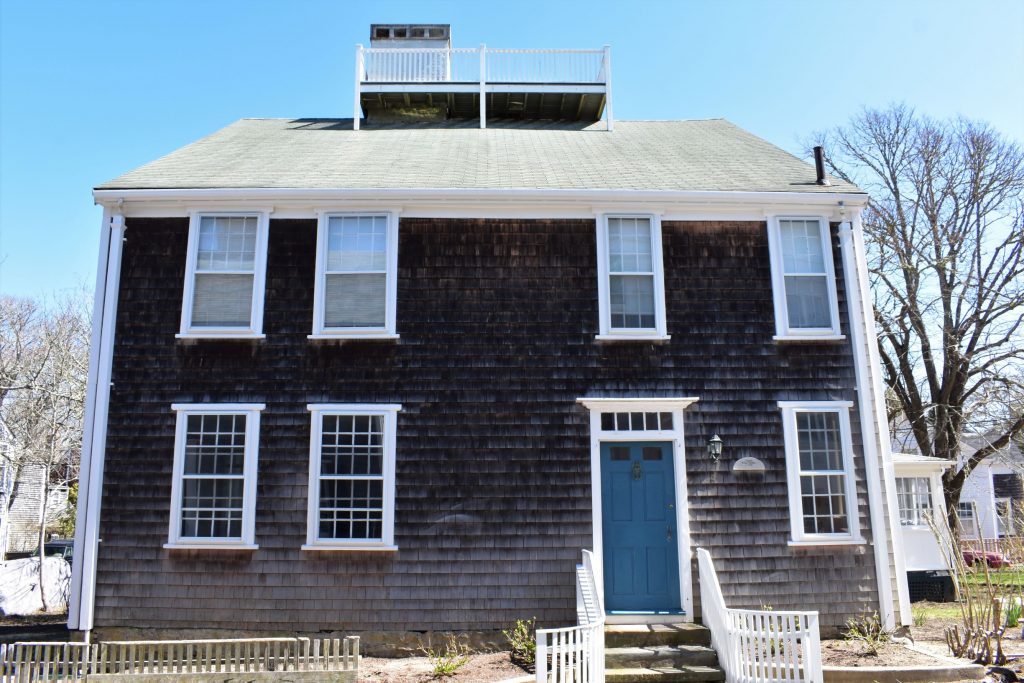 The former owners of the house, Bob and Billi Gosh, had the thoughtful foresight to place a preservation easement on 4 Traders, preserving the exterior and some of the interior in perpetuity.
Ed has spent much of his life working with houses, and his family ties on Nantucket go back to his grandparents. On his mother's side the family once owned the Wireless Cottage in 'Sconset. "My grandmother on my mother's side was coming to Nantucket in the late 1920s and early 1930s and took an interest in protecting Nantucket's history. That was part of my childhood."
On his father's side, it was Ed's paternal grandfather who, upon his return from World War II, had a cabin built on Hinkley Lane. Ed's grandfather and aunt built a second cabin in 1973. These beach cabins were simple—no insulation, no interior walls, made of eastern white pine. Ed's family enjoyed many summers on Hinkley Lane.
"Nantucket has been a constant in my life," Ed says. "The thought of doing one more big project that has more of a restoration quality to it was attractive." Ed and his sister purchased the house at 4 Traders' lane. His sister works for a preservation land bank in Western New York, so both Mills are concerned with saving places.
"As we dug into it and learned more about it, we learned it had an easement on it," Ed explains, "At first it was a concern, but as we considered it, it became less so. It's a historic building and should be protected. 4 Traders Lane has an incredible history—it's clearly a building you'd want to work with as opposed to try to modify. That has its own challenges, but I don't see why, with a little bit of effort, creativity, and planning, a 250-year-old house can't maintain its historical significance yet be appealing to a modern owner.
"Nantucket is a wonderful place, and I'd like to help keep it that way," Ed says. We are excited to see how the Traders Lane project progresses.
---
This article originally appeared in the 2020 edition of Ramblings.