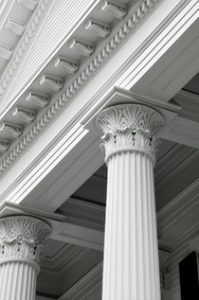 PLANNED GIVING
"Nantucket's historic architecture and sense of place is what I've loved and enjoyed for the past twenty years. My legacy gift to the Nantucket Preservation Trust will help preserve our island." – Pam Waller, NPT Legacy Circle Founding Member
Nantucket's sense of place, as embodied in its historic architecture, requires ongoing protection and preservation to enable and ensure Nantucket's unique beauty remains intact for the benefit of present and future Island inhabitants and visitors.
The mission of Nantucket Preservation Trust (NPT) is to protect, promote and preserve the island's unique architectural heritage and sense of place. Achievement of this mission requires financial assistance not just through annual membership fundraising, but also with the aid of a sustaining endowment funded by individuals who have in mind creating their own legacy by helping to ensure the enduring legacy of Nantucket, thankful for the timeless pleasures Nantucket has afforded them.
Planning ahead allows you to align your philanthropic vision with your overall financial and estate plans. Many giving plans offer financial benefits, so you can enhance your financial security and that of your loved ones while ensuring the greatest impact from your charitable giving. We are grateful to those who remember the NPT, a Massachusetts non-profit corporation, through a bequest or other type of planned giving.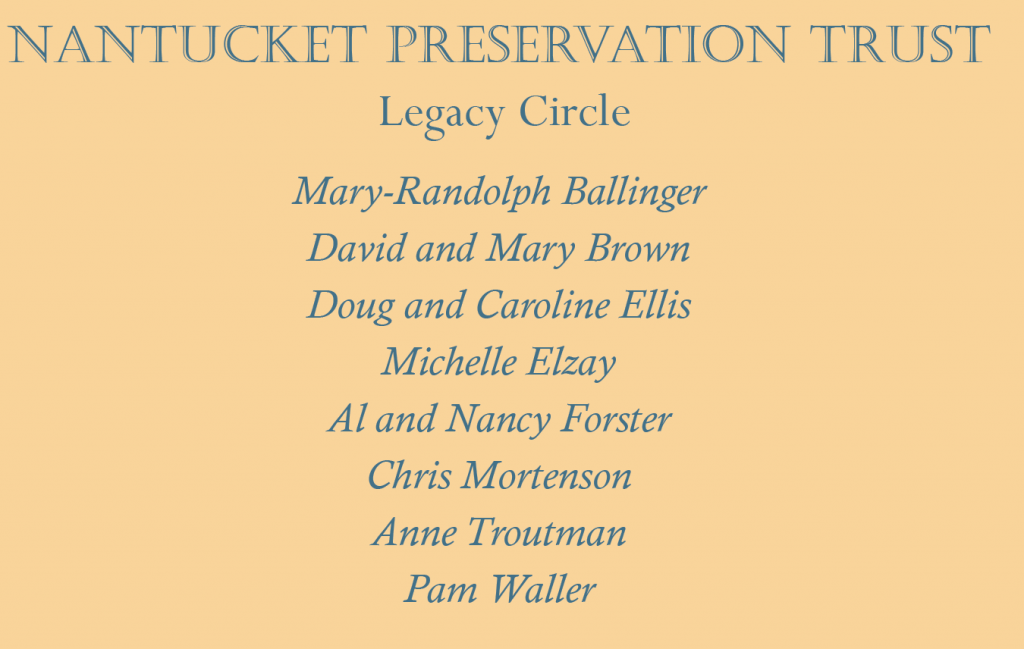 "Nantucket' historic architecture has enthralled me since childhood. Those early childhood memories of this special island have shaped who I am today, and my love of Nantucket has only grown. My legacy gift will help to preserve Nantucket and inspire generations to come." – Michelle Elzay, NPT Legacy Circle Member
ENSURE YOUR LEGACY THROUGH A LIVING WILL OR TRUST
There are many ways to include NPT in your estate plans, including directing a charitable grant to be made in the future to NPT. This can be accomplished various ways. Your will can direct a certain sum of money (or percentage of your estate), or you might bequeath shares of stock in your investment portfolio. Alternatively, you can transfer real estate while retaining a life estate for yourself.
LIFE INSURANCE
You might also consider naming the NPT as a beneficiary of a life insurance policy, assigning a fully paid up policy to the NPT, or transferring ownership of a policy to the NPT. There are several possible benefits in making a life insurance gift: estate or income tax deductions, the ability to make a gift at a lower cost, and ease of implementation.
DEFERRED COMPENSATION PLANS
Annuities, IRAs, 401 (k) plans and other types of deferred compensation plans can also be used to gift assets to the NPT. You can list the NPT as a beneficiary of such plan, either as a secondary (contingent) beneficiary or as a beneficiary of a percentage of the total value of the plan.
CONTACT YOUR ADVISOR AND THE NPT
In all instances we recommend that you consult with your attorney or tax advisor for the various tax benefits and restrictions that may apply to your specific situation. We are available to work with your attorney or advisor to answer questions or help arrange a planned gift to the NPT. Should you name the NPT in a planned gift, we would welcome a copy of the legal document or section of the document that speaks of your gift. This can help to ensure that your gift is properly processed when received and that you are acknowledged as a member of our Legacy Circle in our publications and promotional materials.