Private Guided Tours
Walking tours will be offered again in 2021.
A Walk Down Main Street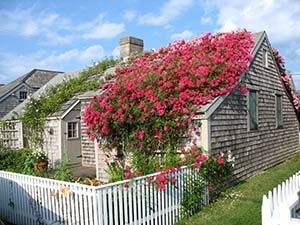 NPT's classic tour provides an overview of Nantucket in its heyday and focuses on the portion of Main Street between the Pacific National Bank and the Civil War Monument. Learn about the street's development and the area's early residents and architectural styles, as well as how the houses have come to symbolize the island's whaling era. Participants in the 75 minute tour will receive a copy of the NPT's highly acclaimed history, A Walk Down Main Street.
'Sconset Tour
Join NPT Executive Director Mary Bergman, who shares her knowledge of this unique fishing settlement at the eastern edge of the island. The 75 minute tour focuses on the early "whalehouses" as well as the village's boom as a seaside resort and actors colony at the end of the 1800s.
 *Private tours are available for a minimum of $250. Please call 508-228-1387 for more details.
Self-Guided Walking Tours
A STROLL IN THE UNION STREET AREA
A walk from Main Street down Union Street is filled with historic houses. This short tour is adapted from the 2010 Summer Kitchens House Tour of the neighborhood. (Tour PDF)
Vestal Street and its notable residents
The small lane south of Main Street now named Vestal Street was known as Prison Lane in the late eighteenth century and included the Town Hall (once located at the corner of Milk & Main), jail (along Vestal) and poor house (once found at Quaker Lane). (Tour PDF)
"Master Mariners, Whaling Wives, and Tradesmen of the Whaling Era"
NPT's house-marker program provides the passerby with information about past Nantucketers and their houses. Betsy Tyler, historian and local author, researched a handful of these houses from the Whaling Museum to the Civil War Monument, for a stroll of about an hour. (Tour PDF)
A Walk Down Broadway
A visit to Nantucket is not complete without a walk around 'Sconset's historic core. We hope this brief review of some of 'Sconset's earliest cottages will whet your appetite for exploring this extraordinary village. (Tour PDF)