An Interview with Colin Evans 
Originally published in the 2019 issue of Ramblings magazine.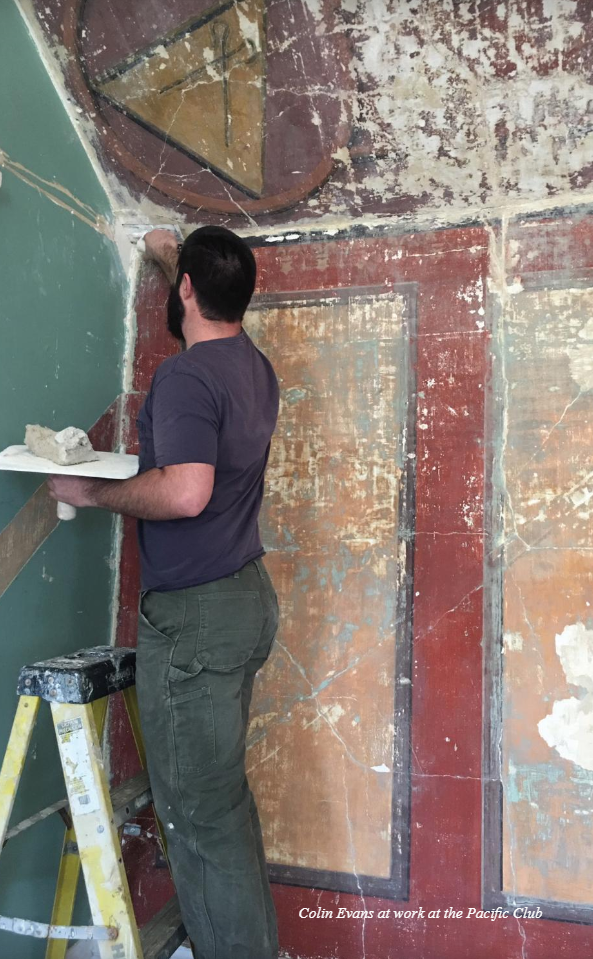 If you have been to the Nantucket Preservation Awards ceremony in recent years, you might have already met Colin Evans. In just six years on Nantucket, Colin has already made a name for himself as a craftsman with a solid grounding in historic preservation. He's worked on numerous award-winning projects alongside master craftsman like Pen Austin and Michael Gault, and recently established his own business—Colin Evans Preservation and Restoration. With a hand in everything from timber frame repair to masonry and lime plaster work, Colin approaches a project with a whole-house understanding.
Originally from New Hampshire, Colin arrived on the island late one summer. With a background in mechanics, he secured work at the docks. But when the rest of the summer crowds left, Colin stayed and began working with Pen Austin. "In my life before," Colin says, "everything I knew was modern, but I took a liking to traditional materials." Colin stresses the importance of the on-the-job training he received while apprenticing with Pen. There are some lessons you just won't learn in any classroom.
It wasn't long before Colin saw that the island's historic structures were threatened. "Even in those first few years, I saw building material get lost and destroyed on Nantucket," he says. Recalling the demolition of 27 Easy Street, he says, "I saw a perfectly fine structure that was destroyed."
In speaking with Colin, it is clear he has a real reverence for the past and for the work of those who came before him. He wonders what his historic counterparts might have thought when they encountered a new hand tool—objects that seem old fashioned to us today were at one time technological innovations. How long did it take for new technologies to reach the faraway island?
While Colin can't talk directly to the people who originally constructed or even repaired the properties he works on, they've left clues to be decipher. "You can see the repairs, their thought process," he says, recalling a recent project on Fair Street. And despite the centuries that span between Colin and the work of the original craftsman, he considers the rhythms of island life that link them. He knows what it is like to work in terrible weather, to wait for the boats to start running again, and to dig out from a sudden April snow squall.
It should come as no surprise that someone as curious as Colin makes for a great instructor. Colin has led traditional building demonstrations for North Bennet Street School students, and those just entering the field often seek Colin out to learn more. Educating the homeowner about the importance of historic building materials, their history and their care, is an important part of preservation and one Colin enjoys
With projects from Main Street in town to Broadway in 'Sconset, you may have already admired Colin Evans' work.
Contact Colin Evans Preservation and Restoration, LLC by visiting www.ceprllc.com.