Each year the Nantucket Preservation Trust recognizes individuals and organizations that advance the cause of historic preservation on Nantucket. Awards are provided for preservation work on historic buildings and landscapes, and for the protection and stewardship of island resources.
NPT's Preservation Awards program is designed to show that a building or landscape can be sensitively updated while maintaining and preserving its historic integrity. In general, the NPT Preservation Awards emphasize proper preservation, showcase the island's craftspeople, and reveal the foresight of owners who care about our historic structures and landscape.
2019 Architectural Preservation Award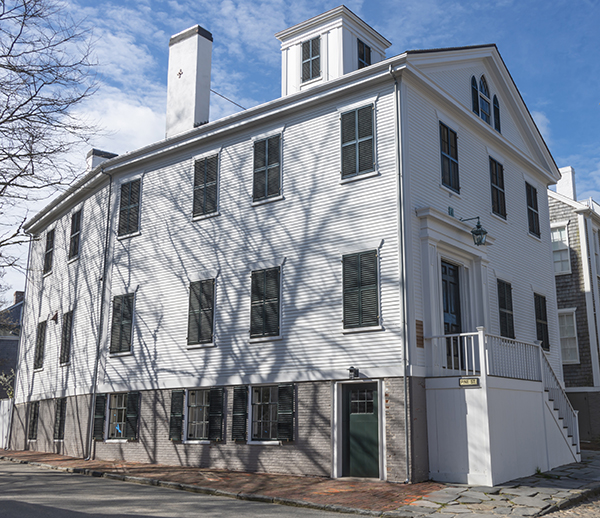 86 Main Street, Jeffrey Paduch and Caroline Hempstead
A finely detailed and early example of Greek Revival style architecture, the house at 86 Main Street commands attention. Proudly perched at the corner of Pine and Main Streets, the Allen-Crosby-Macy House was constructed in 1834 for Joseph Allen, a whaling captain who also speculated in real estate on Nantucket. Though updates to the house have been made over the years, the majority of the original finishings remained in position.
Unoccupied for more than a decade, 86 Main Street would have been an intimidating project for many homeowners. Jeffrey Paduch and Caroline Hempstead were well suited for the challenge and sought out project manager Brian Pfeiffer. Decision making at 86 Main Street became a collaborative process among the owners, craftsmen, project manager, project engineer, architect, and landscape architect, all of whom have contributed to the spectacular outcome.
Jeffrey and Caroline considered the history behind 86 Main Street to be an important part of their preservation planning. They understood immediately the importance of uncovering the home's history before work began. The scope of work was immense and included: repair and re-installation of original window sashes and glass; reproduction of louvered shutters; reproduction of replacement window sashes; four original chimney stacks with ten original fireplaces repaired and relined, fireboxes and ovens repaired; reconstruction of cupola; excavation beneath foundation walls and installation of traditional underpinning of granite stones to create interior basement height to house modern mechanicals; structural repairs to timber-frame, west wall, southeast and southwest corners of the ell; repairs to interior woodwork and interior plaster; and reinstallation of interior shutters and doors.
A project this extensive is truly a team effort. Led by homeowners Jeffrey Paduch and Caroline Hempstead, the team also includes Brian Pfeiffer, Penelope Austin, Michael Gault, Jared Baker, Amy Boyle, Colin Evans, Michael Burrey, Nathaniel Allen,  Aaron Beck, Adam Zanelli, Newton Millham, D. Randall Ouellette, Gary Naylor, Todd Stout, Betsy Tyler, Luke Thornewill, Janet Kane, and Martin McGowan.
2019 Historical Renovation Award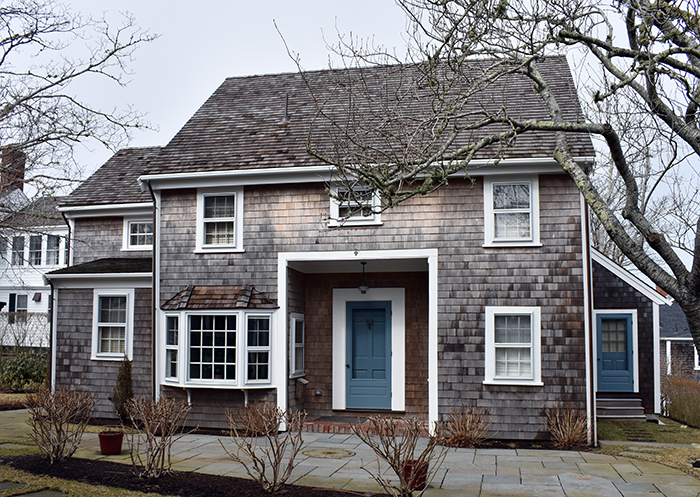 51 B Centre Street, Keith and Elizabeth Roe, owners; Michael Sweeney, builder
One of the largest differences between the way Nantucket's historic downtown looks today and the way it looked two hundred years ago is the removal of outbuildings from the streetscape. The landscape would have been dotted with outbuildings—privies, stables, hen houses, to name a few. 51 B Centre Street is a 2-story wood-framed structure originally built as a stable for 51 Centre Street and today serves as a guest cottage. The construction of the early stable is the original, surviving post-and-beam wood frame. The original structure appears on the earliest Sanborn Map in 1887. Between 1898 and 1904, a separate structure at the west end was removed.
The cottage at 51 B Centre Street contributes to the island's historic streetscape. It is rare to have survived in its original footprint and form from its beginnings as a utilitarian stable structure.
Michael Sweeney Construction oversaw the restoration and renovation of its existing form, footprint, and original post-and-beam structure. A one-story addition was designed and constructed to harmonize with the existing building. Sweeney also used salvaged materials from the structure to echo the look of exposed beams in the new addition.
2019 Historical Renovation Award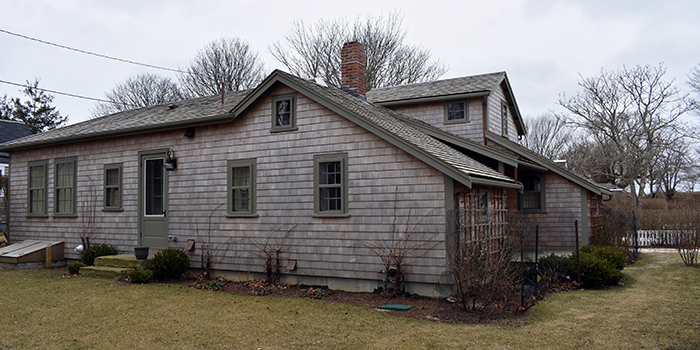 The Helm, 6 Evelyn Street, Sias., Alec and Brigid Lamon
According to Edward F. Underhill,  developer of Underhill Cottages in 'Sconset in the 1880s, The Helm was "built following the traditions of the builders of a hundred years ago, who made their houses strong and compact for comfort and convenience and with no thought that the structures they reared would ever be in demand for the residences of families from distant parts during the warm season." The cottages were modeled after the fish houses in the village core along Broadway, Center, and Shell streets—using the same architectural vocabulary, including warts, T-shaped plans, and half gable roofs.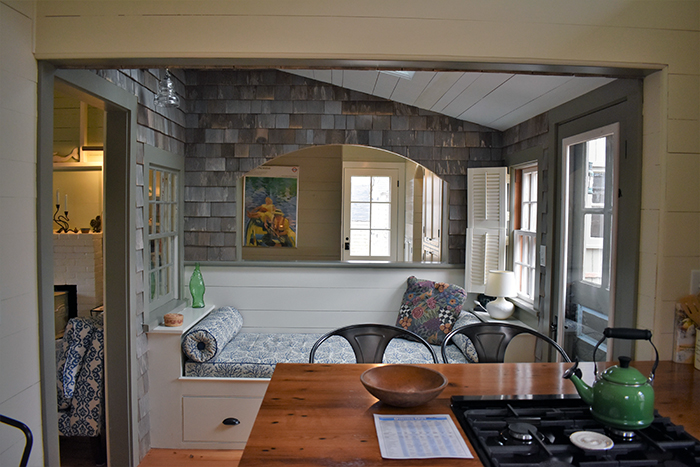 Now an important part of the island's architectural heritage, the Underhill Cottages (Pochick, Lily, and Evelyn Streets) are individually owned. Some of the original cottages have been heavily changed over the years, but The Helm retains much of its original architectural details and charm. The Helm has been in the Lamon family for decades, and owners Alec and Brigid Lamon recently underwent a careful historical renovation working with Angus MacLeod Designs.
The kitchen and bathrooms were updated, and windows and insulation were added in the second-floor loft. A ca. 1940s wing to The Helm housed an additional bedroom but did not harmonize with the original structure. MacLeod took advantage of the cottage's evolution and designed a functional bedroom and bathroom, and installed windows and a door to the side yard that complemented the original structure yet worked to integrate the addition. An outdoor porch was enclosed to create a welcoming breakfast nook but retains its old exposed shingles. Overall, The Helm is characteristic of the quirky charm of Old 'Sconset that Underhill sought to emulate.
2019 Traditional Building Methods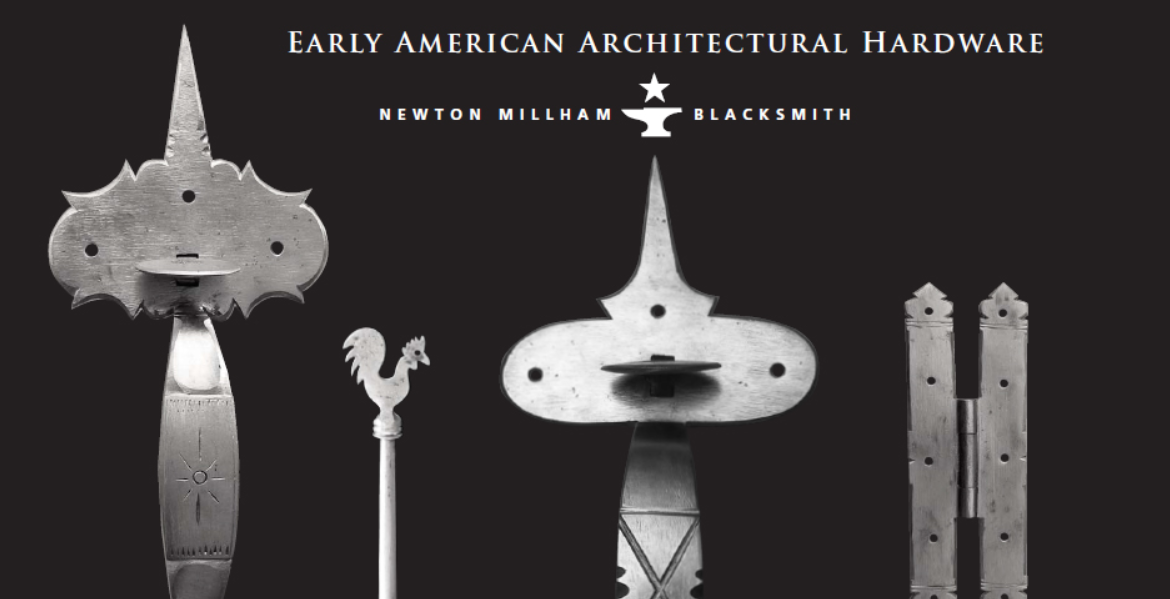 Newton "Tony" Millham
Tony Millham began blacksmithing in Newport, Rhode Island in 1970, forging architectural hardware for the Newport Restoration Foundation, and in 1977 he moved his shop to Westport, Massachusetts. All of Tony's work is hand forged and hand finished. Careful forging combined with filing, fitting, and finishing are necessary to reproduce the details, finish, and feel of early wrought hardware.
Tony's careful work can be found in many island homes and buildings, including the Old Gaol, Higginbotham House, 100 Main Street, 86 Main Street, and in 'Sconset. In addition to designs in his own catalog, Tony reproduces hardware by working from client's original examples; photographs; sketches; architectural drawings; or references to images in books.
Not only a splendid craftsman, homeowners and project managers agree that Tony is an accessible resource. He is always happy to answer a question, aid in installation, or teach a homeowner the skills required to install and care for his pieces.
2019 New Construction Award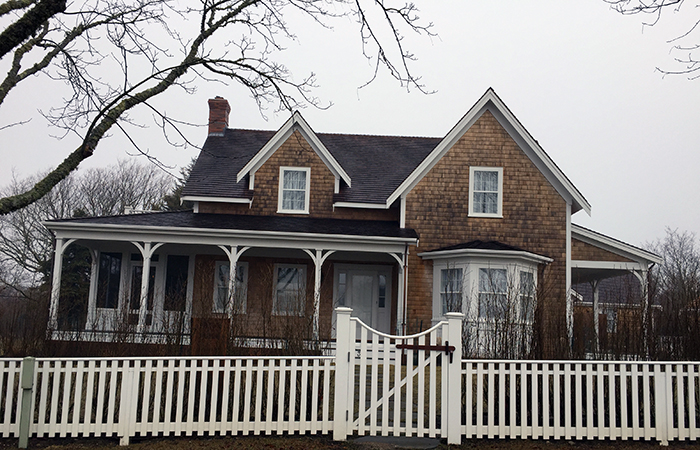 39 Main Street, Sias., Nell and George Wilson, owners
Perhaps the best indicator of an award-worthy New Construction project is that the only thing that sets it apart from other nearby buildings are the new cedar shake shingles. Once weathered to a soft grey, the house at 39 Main Street in 'Sconset will look as though it has always been there. Working with the Wilson family, designer Milton Rowland created a stately Main Street home that echoes the details of other houses that line the street and welcome you to the village. Set back from the road, the new house still retains a large yard. Many of the homes on Main Street were added to over the years, creating a visual reminder of the passage of time and tastes. The design of 39 Main Street mimics these older structures, creating a feeling of a large family home that has been expanded over the decades.  The builder for the house was Rhett Dupont of Cross Rip Builders.
2019 Stewardship Award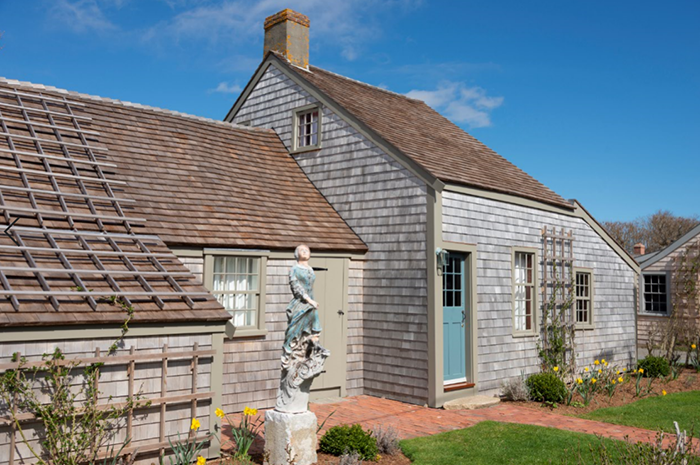 Shanunga, 10 Broadway, Sias., Kristen Williams Haseotes, owner
One of the most architecturally significant buildings in 'Sconset, Shanunga needed a savior. A host of issues dissuaded many potential buyers, but Kristen Williams Haseotes was ready to take on the project. The best preservation practices guided her work, and she worked with fine craftsmen including Patrick McCarty of Nantucket Carpentry, and window restorationist, Brian FitzGibbon. The exterior of the house has been carefully restored and old timbers were retained and repaired rather than replaced. Today the old fish house has been refreshed with new shingles and restored windows—and the notable addition of a carved wooden figurehead once again graces the front yard.  Previously hidden behind high hedges, the house now sits proudly as an important part of the streetscape with sensitive landscaping. The interior remains relatively untouched. Haseotes updated the kitchen and the bathroom, both in a careful manner in keeping with the rustic style of the house. The footprint of the structure also remains the same, and through her efforts, new life has been breathed into one of 'Sconset's most adored buildings.
2019 Landscape Award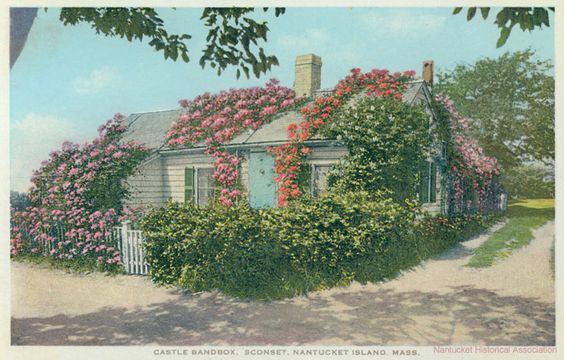 Florence Merriam Hill, posthumously
Perhaps no one person has had as much of an impact on the garden landscape of Nantucket—especially Siasconset—than Florence Hill. Hill, a Starbuck descendant, grew up on Upper Main Street in the stately Middle Brick mansion. But it was 'Sconset where Florence Hill's influence is still felt today. Florence and Frederick Hill owned Starbuck Cottage in the easternmost village. A landscape architect, Hill was single-handedly responsible for the proliferation of American Pillar roses on Nantucket. In 1909, she bought 1,500 roses for 22 cents each and sold them to her neighbors in 'Sconset at cost. Over the next few years she repeated this feat. The iconic rose-covered cottages exist today because of Florence Hill.