Nantucket Preservation Trust annually recognizes individuals and organizations who have undertaken projects that advance the cause of historic preservation on Nantucket. The awards recognize preservation work on historic buildings and landscapes, as well as those who protect and steward island resources.
NPT's Preservation Awards program is designed to show that a building or landscape can be sensitively updated while maintaining and preserving its historic integrity. In general, the NPT Preservation Awards emphasize proper preservation, showcase the island's craftspeople, and reveal the foresight of owners who care about our historic structures and landscape.
An online awards ceremony will be held Thursday, June 18th at 6 PM. Stream the ceremony on Youtube.
2020 Architectural Preservation Award
The Boston-Higginbotham House
27 York Street
Museum of African American History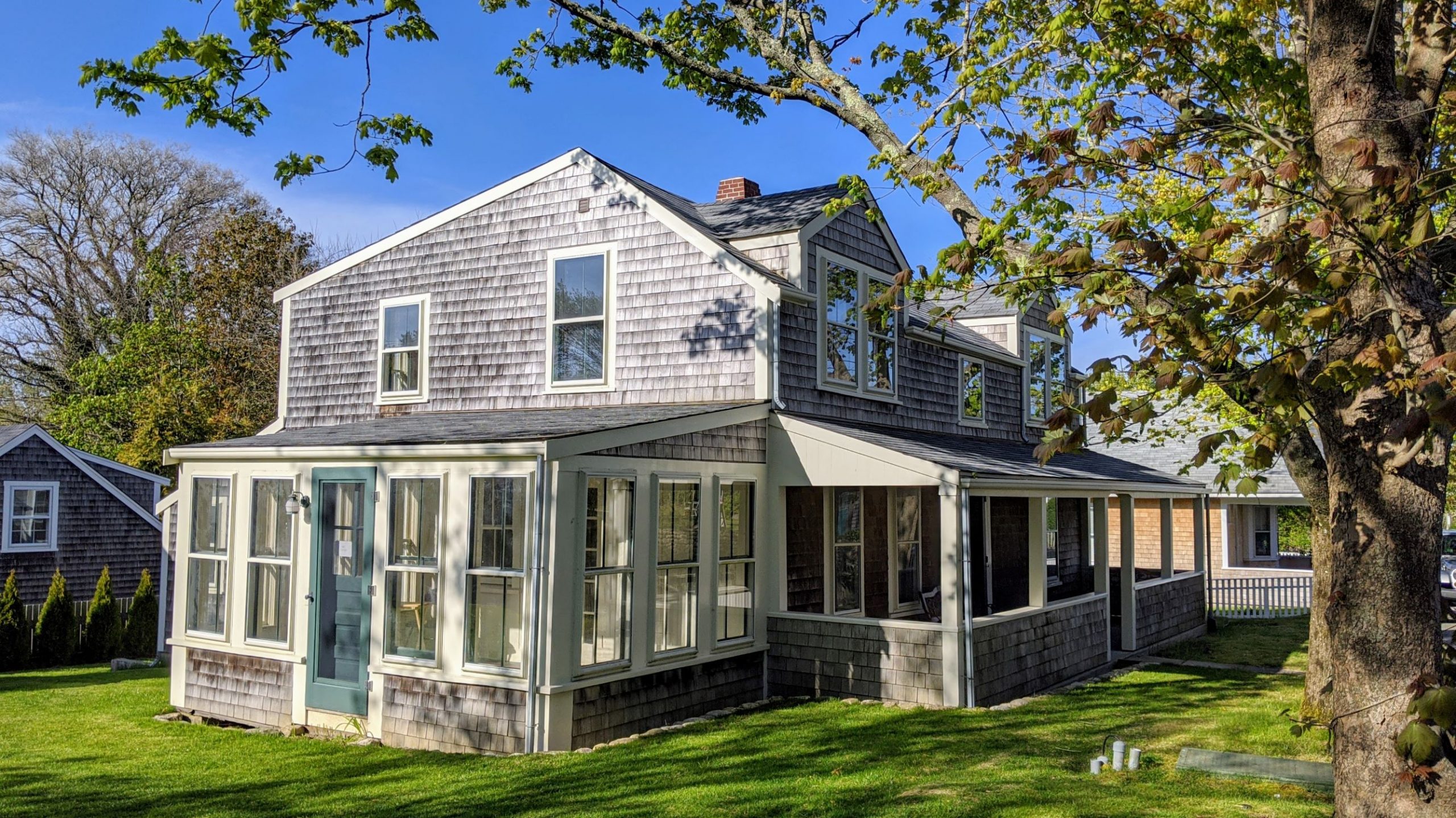 The Museum of African American History of Boston and Nantucket has completed a multi-year restoration of the Boston-Higginbotham House and outbuildings on York Street. The Boston- Higginbotham House was constructed c. 1774 by Seneca Boston, a weaver and formerly enslaved man. The home is especially important as it boasts more than 200 years of ownership by free Black Nantucketers. The house was owned by Boston's descendants until 1919. In 1920, cook and domestic worker Florence Higginbotham purchased the home. The house was altered many times over the years, and the Museum of African American History, working with architect Marsha Fader and builder Chuck Lenhart of Sandcastle Construction, made careful decisions to utilize different rooms of the house to emphasize 18th, 19th, and 20th century stories while honoring the full 200 years of African American ownership. Highlights include Florence's 1920s-era kitchen, complete with her Household Regal Cookstove, found in pieces in the basement and beautifully restored for present-day use, a Greek Revival mantelpiece, and 18th-century fireplace paneling. The home will be open to the public while also serving as housing for MAAH interns and visiting scholars. Work on the outbuildings included converting the former Chicken House into accessible restrooms, a small Cottage into a Visitor Reception Center & staff offices, and the Garage into an educational classroom which will include documentation of archaeological artifacts excavated on-site by graduate students from Fiske Center for Archeological Research of the University of Massachusetts Boston.  Restoration work was funded through the Community Preservation Committee, the Tupancy- Harris Foundation, and The Weezie Foundation for Children, as well as donations from many island businesses and contractors. The newly restored Boston-Higginbotham House and outbuildings, together with the African Meeting House, now form a complete campus where centuries of Nantucket's African American history can be experienced and researched.
2020 Historical Renovation Award
10 Martins Lane
Ken Jennings and Al Messina
Sandcastle Construction Inc.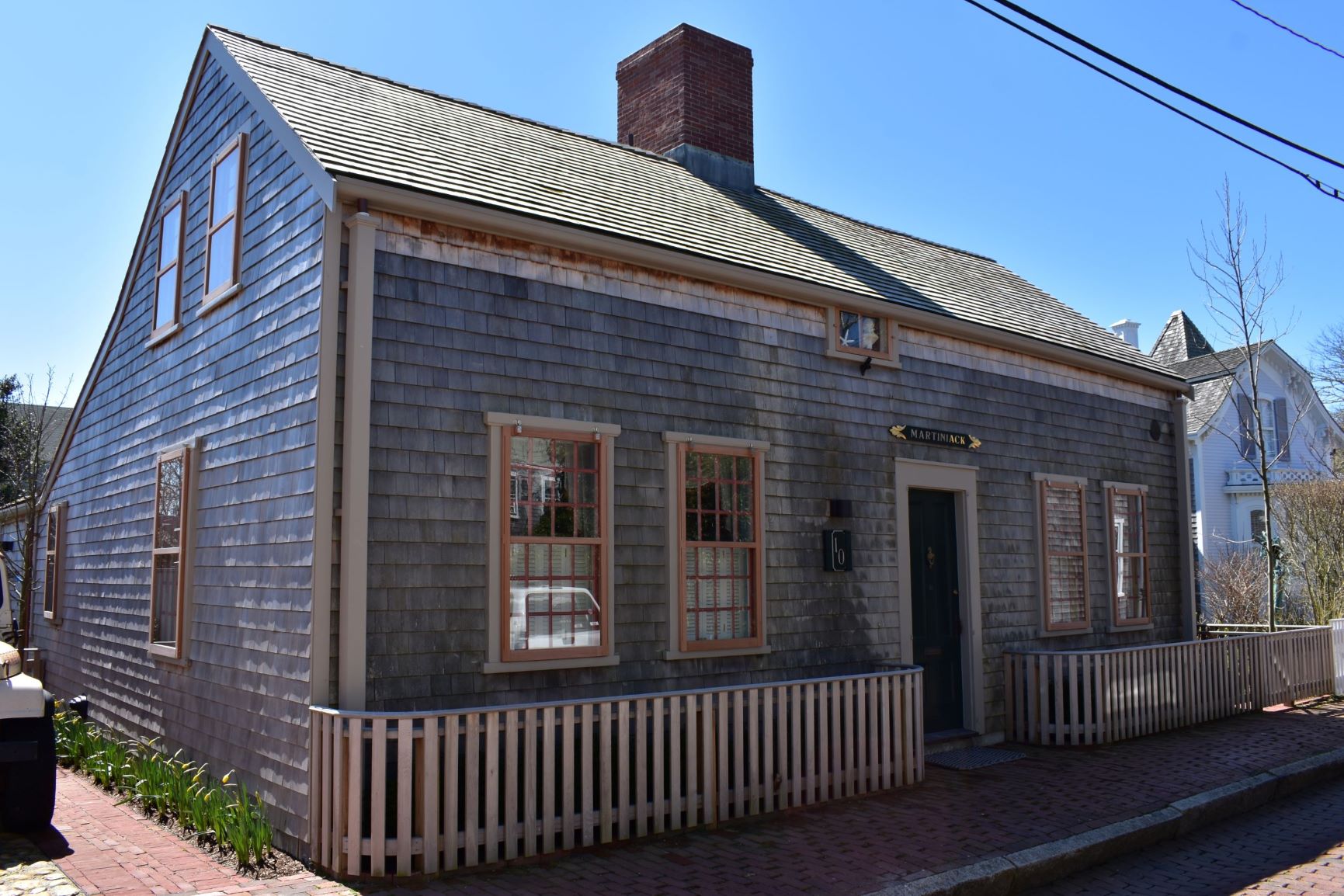 When Ken Jennings and Al Messina first saw inside the lean-to house at 10 Martins Lane in 2017, they felt they had found an "untouched gem" and jumped at the chance to purchase it. The home, built on Fair Street in 1756 and moved to Martins Lane in 1801, had been owned by the same family for 75 years and used exclusively as a summer home. Working with a team led by Chuck Lenhart of Sandcastle Construction, Jennings and Messina completed a renovation and restoration to make the home suitable for year-round Nantucket living. To that end, projects included installing central heating and restoring the home's four fireplaces to working condition. All historic floors, windows, trim, and hardware were restored and retained. Minimal repairs to the interior plaster walls were completed using the original lath and a multi-layer keyed plaster finish. Approximately 75% of the exterior cedar wall shingles were replaced, along with sections of rotten wood gutters, and an asphalt shingle roof was removed and replaced with cedar. The home has a narrow winder staircase in the front entry, which was retained. However, to allow for increased accessibility to the second floor, a more accessible staircase was added at the rear of the home by extending a dormer. A porch addition was converted into a first-floor bedroom, and a new porch was added. The bedroom addition and stair alteration were done sensitively in order to maintain the home's scale and exterior appearance from the street, but these alterations will allow for Jennings and Messina to enjoy their home for decades to come.
2020 Stewardship Award 
The Pacific Club
15 Main Street
Pacific Club Directors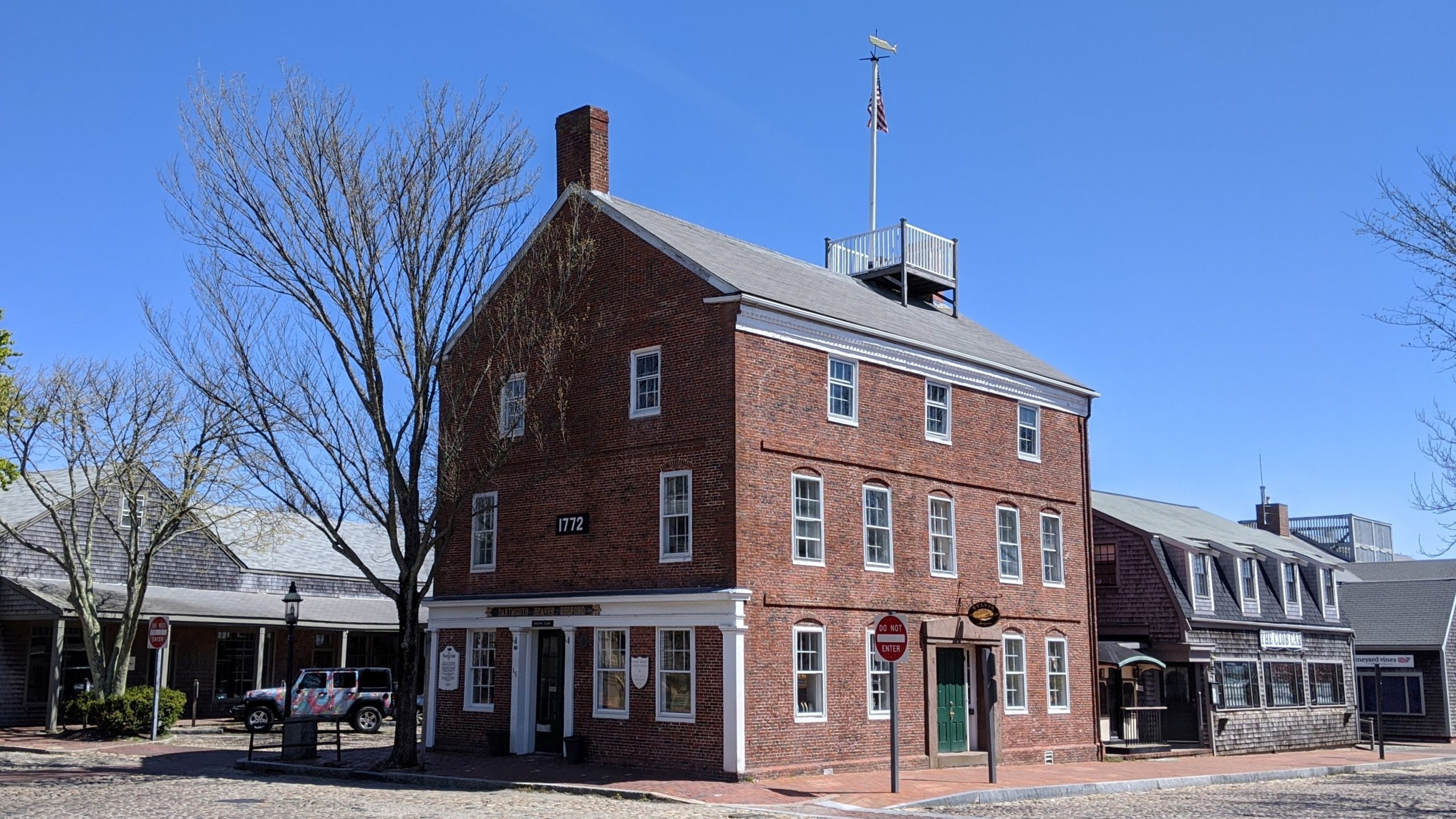 For centuries, the Pacific Club at the foot of Main Street has been a reminder of Nantucket's seafaring economy. The three-story brick building, originally constructed in 1772 as William Roach's counting house, was swiftly rebuilt following damage in the Great Fire of 1846. Over the centuries it has served many purposes. In 1861 it was purchased by the Pacific Club, an organization of whaling industry businessmen, and served as their meetinghouse and social club. In the 20th century, it housed county courts, until the Town and County Building opened on Broad Street in 1966.  Today, members of the Pacific Club maintain the building. Starting in 2008, Virginia Andrews, Charles Duponte, and Richard Phelan, Directors of the Pacific Club, spearheaded an effort to restore the building. Securing the building's exterior envelope was their first task. Michael Burrey led the work of installing new wood rafters, and Pen Austin oversaw extensive masonry work. Exterior windows on the first and second floors were rebuilt with original arches, and steel was removed. Interior work on the third floor revealed mid-19th century murals with symbols of the Masons and the Order of the Eastern Star. The painting on the north wall was coated for protection and left exposed, while false walls were installed to protect the murals on the other walls. The original wall trim was reinstalled on these false walls to remain visible. The Pacific Club Directors are applauded for their careful stewardship of this iconic landmark, inside and out.
Academy Hill Apartments
4 Westminster Street
HallKeen Management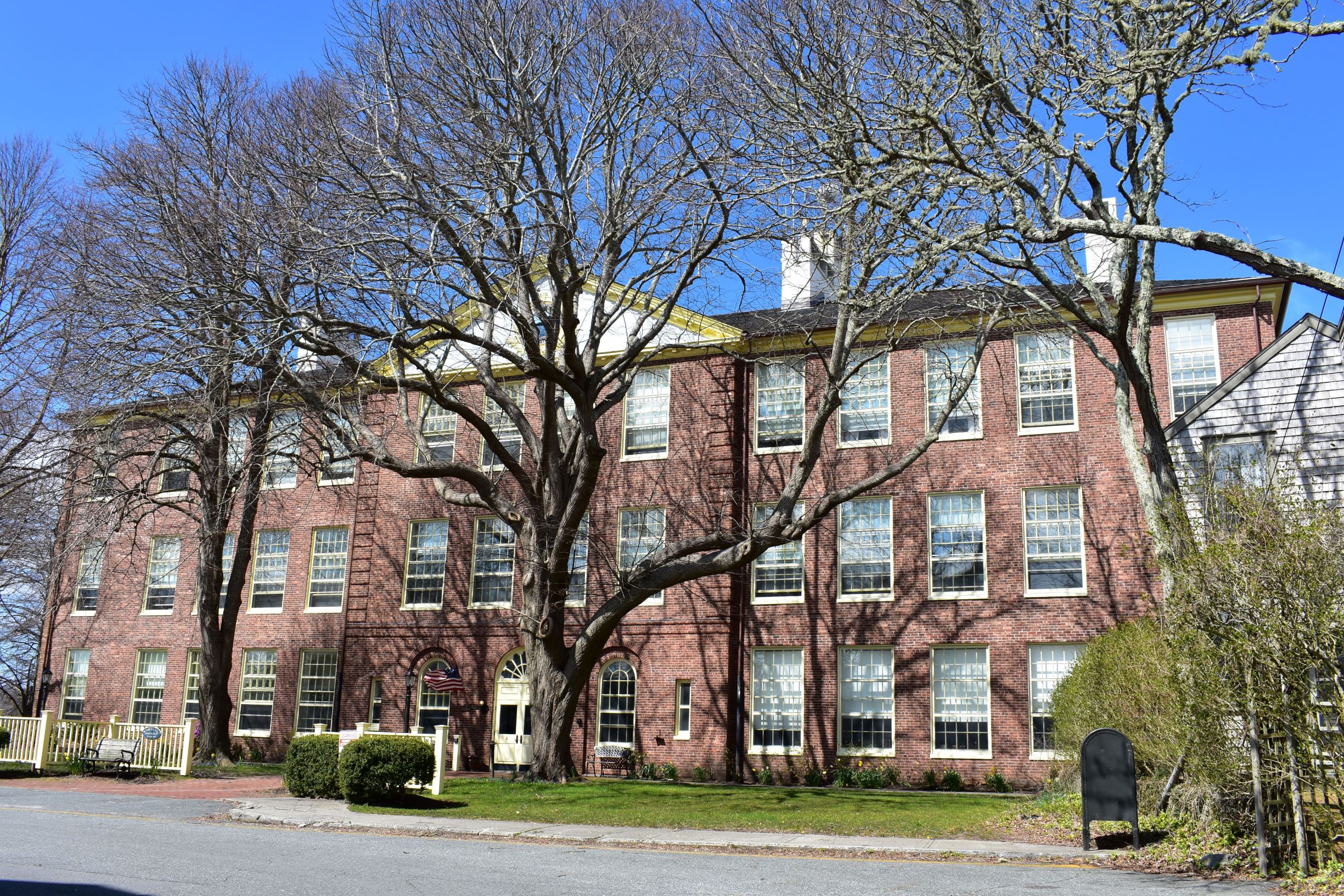 Sitting at one of the highest points in the Old Historic District, the impressive façade of the Academy Hill Apartments is instantly recognizable to almost any Nantucketer. Since leasing the building from the Town of Nantucket in 1985 and converting the 1929 three-story brick school building into 27 one- and two- bedroom apartments for senior citizens, HallKeen Management has shown proven dedication to the building's careful preservation. Project managers Kurt LeMar and Kate Schroth worked with preservation consultant Marsha Fader to assess and determine the preservation needs of the building. Recently, Lewis Gillespie refabricated and reinstalled copper gutters, Chris Bouque of Nantucket Millworks rebuilt the front doors, and Gary Gnazzo of Joseph Gnazzo Company, Inc. restored the masonry. The 98 original wooden sash 15-over-15 double-hung windows were carefully restored according to the Secretary of the Interior's Standards for Rehabilitation by Ted Eayrs of Blackburn Building Conservation LLC, following window prototype work performed by Brian Fitzgibbon and Patrick McCarthy of Nantucket Carpentry Inc. HallKeen also oversaw the restoration of the central pediment above the main entrance, work that included flush boarding, wood brackets, and a large carved wood seal of the Town of Nantucket, which was badly weathered. Ivan Niero of IN Enterprises completed the pediment restoration, and Ted Eayrs restored the town seal. Work was partially funded through the Community Preservation Committee. HallKeen's high quality maintenance of Academy Hill not only preserves its historic character, it positively impacts the quality of life of its residents and helps contribute to a vibrant year-round presence in the downtown historic core.
2020 Traditional Building Methods Award
Ben Moore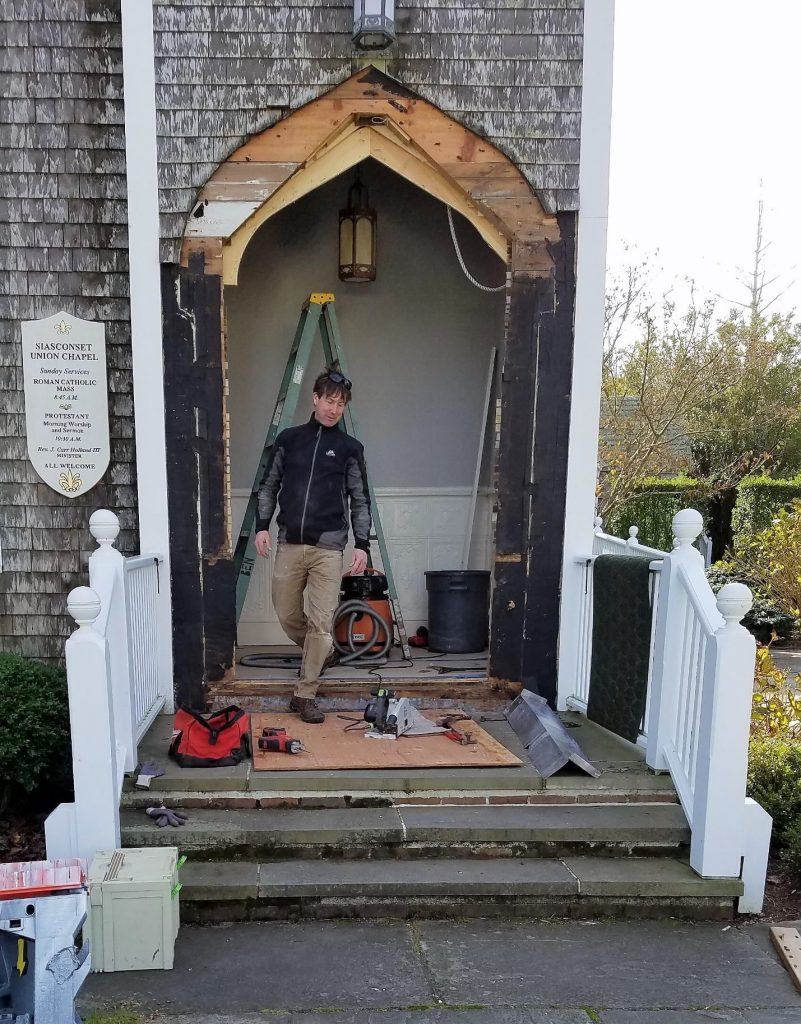 Carpenter Ben Moore has lived and worked on Nantucket since 1985 and opened his own shop and business, Moore Woodworking, in 2001. He has contributed to numerous preservation-minded residential, commercial, and community projects, including creating custom doors, windows, stairs, newel posts, furniture, and cabinets. Recently, the trustees of Siasconset Union Chapel commissioned Moore to reconstruct the door jamb, threshold, exterior trim, rosettes, and decorative exterior molding of the Chapel's front door, which Moore created from rot-resistant mahogany. He has also completed restoration work of the entryway arches of St. Mary's Church, the finial on the cupola at 19 Broad Street, the fence at Hadwen House, and numerous other island projects. He combines traditional joinery methods with modern woodworking tools to help maintain Nantucket treasures.
2020 Landscape & Garden Award
Russell and Marian Morash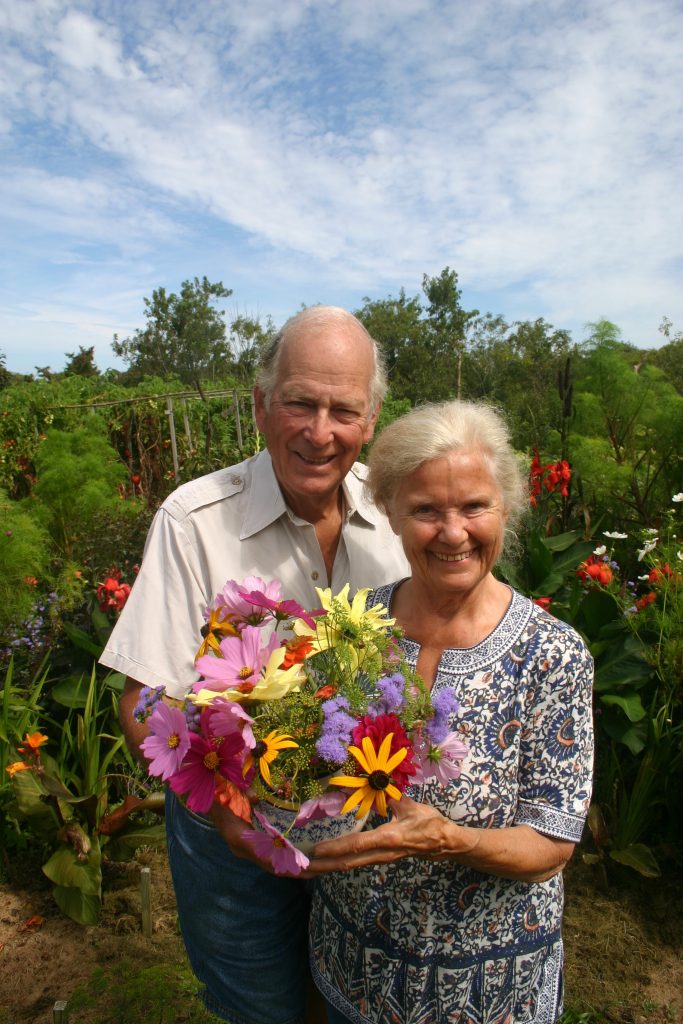 Perched on a hill overlooking Nantucket Harbor, the house and garden of Russell and Marian Morash evoke a special sense of place for its creative owners, who are comfortable digging island soil or around the wide world. In over forty years as Nantucket seasonal residents, they have graciously welcomed visitors to their property, hosting events for many island nonprofits and inspiring our community with their love of growing and cooking their own food. Their home, a contributing structure to Nantucket's National Historic Landmark designation, was one of the first new construction houses to be approved by the Historic District Commission following the expansion of its jurisdiction to cover the entire island in 1972. The raised bed gardens evoke the English style kitchen gardens planted by the first Europeans to settle on Nantucket in the 17th century, and their property highlights the value in using the landscape in a historic way, to grow food. Russell was a longtime television creator, director, and producer who created The Victory Garden, This Old House, and The New Yankee Workshop. Marian, a James Beard Award-winning chef, was a regular on-screen contributor to The Victory Garden and authored The Victory Garden Cookbook series. Starting in 1976, she was the founding chef at the iconic Straight Wharf Restaurant. For decades, Russell and Marian have inspired people on Nantucket and across the country to get their hands dirty and "do it yourself."