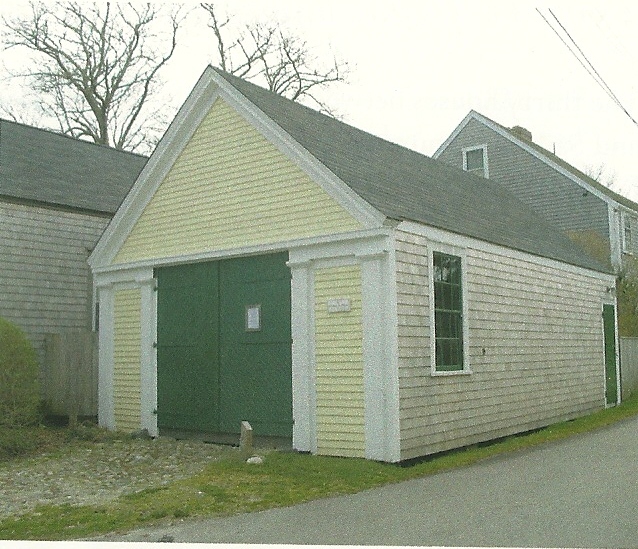 The Fire Hose Cart House is located at 8 India Street and is the NPT's most recent preservation easement.This is the last remaining cart house on the island, which was recently restored by the Nantucket Historical Association. Today the cart house holds rare fire-fighting equipment related to the Great Fire of 1846 and is open in season.
The Fire hose cart house was built forty years after the Great Fire, which destroyed approximately one-seventh of the downtown area. Although the fire devastated the town, it also led to improvements in fire-prevention and protection measures, including the construction of cart houses to store hand-pumped fire-fighting apparatus.
A firehouse for the neighborhood was requested in 1884 by the firewards of Engine Company No. 6. They proposed that the town assume ownership of their engine Cataract a request granted at town meeting in 1886 along with authorization to lease property to house it. Completed in 1887, the fire hose cart house at Gardner Street originally housed Engine No. 6 as well as Hose Cart No. 8. In 1893, William Hosier, the owner of the land, deeded the property to the town, and by 1905, Engine No. 6 was officially retired and put on exhibit in the Nantucket Historical Association's new fireproof building on Fair Street. The name board that graced the hose cart building after 1905 displayed the same title it does today, "Hose Cart No. 7 & 10."
By 1912, the Nantucket Fire Department had been recognized and the Gardner Street facility was soon abandoned, and in 1931, the town sold it to the owner of  the adjacent land, William Macy Bartlett. In 1960, Miss Edith M. Bartlett, daughter of William Macy Bartlett and Lizzie A. (Nash) Bartlett, gave the land and the building to the NHA to be maintained as a memorial to her father and mother.