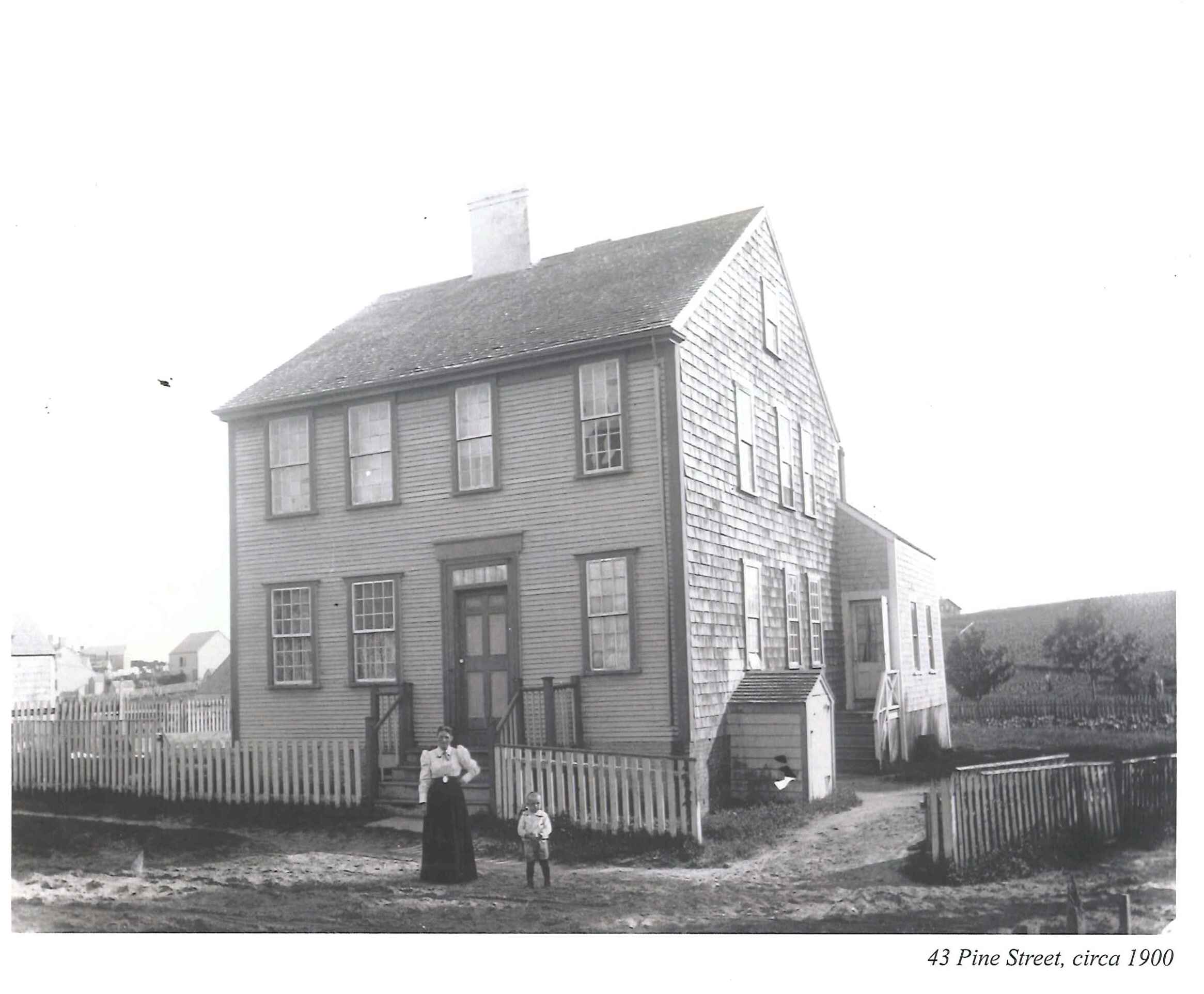 On October 31, 1808, house carpenter Abner Howard purchased twenty-two square rods of land on Pine Street for $250.00. Two years later he sold the property, with a dwelling house, to mariner David Swain 2nd (1784-1841) for $1,350. Swain became a master mariner and was a captain of a number of whaling vessels: Lydia, 1808-09 and 1810-12; John Jay, 1815-17; States, 1818-20; Constitution, 1821-23; and Lydia again on tow more voyages, 1825-28 and 1830-33. His first wife, Phebe Ellis (1791-1831), spent most of her married life managing the household and four young children while David was at sea; she died while he was away on his last whaling voyage in the Lydia. In1834, shortly after his marriage to second wife Eliza Bunker (1799-1868), Swain sold the house at 43 Pine to another master mariner, Seth Coffin Jr.
Seth Coffin Jr. (1790-1844) was captain of the whaleships Criterion, 1820-23, and Aurora, 1823-26. He was married to Lydia Coleman (1793-1872) and they had a large family: three sons and three daughters ranging
in age from two to eighteen in 1834: a fourth son was born at 43 Pine Street in 1836. The Coffin family owned the house until 1886, when daughter Charlotte M. Brock sold it to Obed Mendell, who owned it only three years before selling the land and the house to Houghton Gibbs for $135.41 in 1889. Joseph J. Araujo, a fisherman, purchased the house in 1910. He had immigrated to the United States from the Azores in 1900, at the age of forty, and four years later his wife, Beatrice, and four daughters joined him. The U.S. Census for 1920 indicates that the daughters all lived at home with their parents: the two middle daughters worked as housekeepers for private families, the youngest was a nurse, and the eldest was unemployed. The Araujos also rented a room to an Azorean man who worked as a mason. In 1954, David and Mary Elizabeth Masters of Pennsylvania purchased the house at 43 Pine Street from the estate of Joseph J. Arujo for $6,825. They owned the house for more than thirty years.
The house Abner Howard built two hundred years ago is an example of a "typical" Nantucket house: two and a half stories high, four bays wide, with a ridge chimney. Late nineteenth-century photographs show that it had clapboard front facade and glass lights above the front door, the latter a feature that was restored when the house was renovated in 1988.
2013 Architectural Preservation Award
Michelle Elzay, Sparrow Design – 43 Pine Street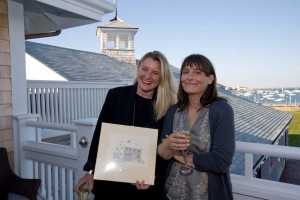 Michelle Elzay of Sparrow Designs was awarded a 2013 Architectural Preservation Award for her projects at 43 Pine Street, which included the restoration of the original bake oven. A bake oven demonstration will be held on May 17th in honor of Preservation Month hosted by the NPT and Maria Mitchell Association. There is limited space and reservation are necessary. Please call 508-228-2896 to reserve your spot today.