This letter originally appeared in the March 1, 2018 issue of the Inquirer and Mirror. 
We are sad to report that the Jacobs House was demolished on March 6, 2018.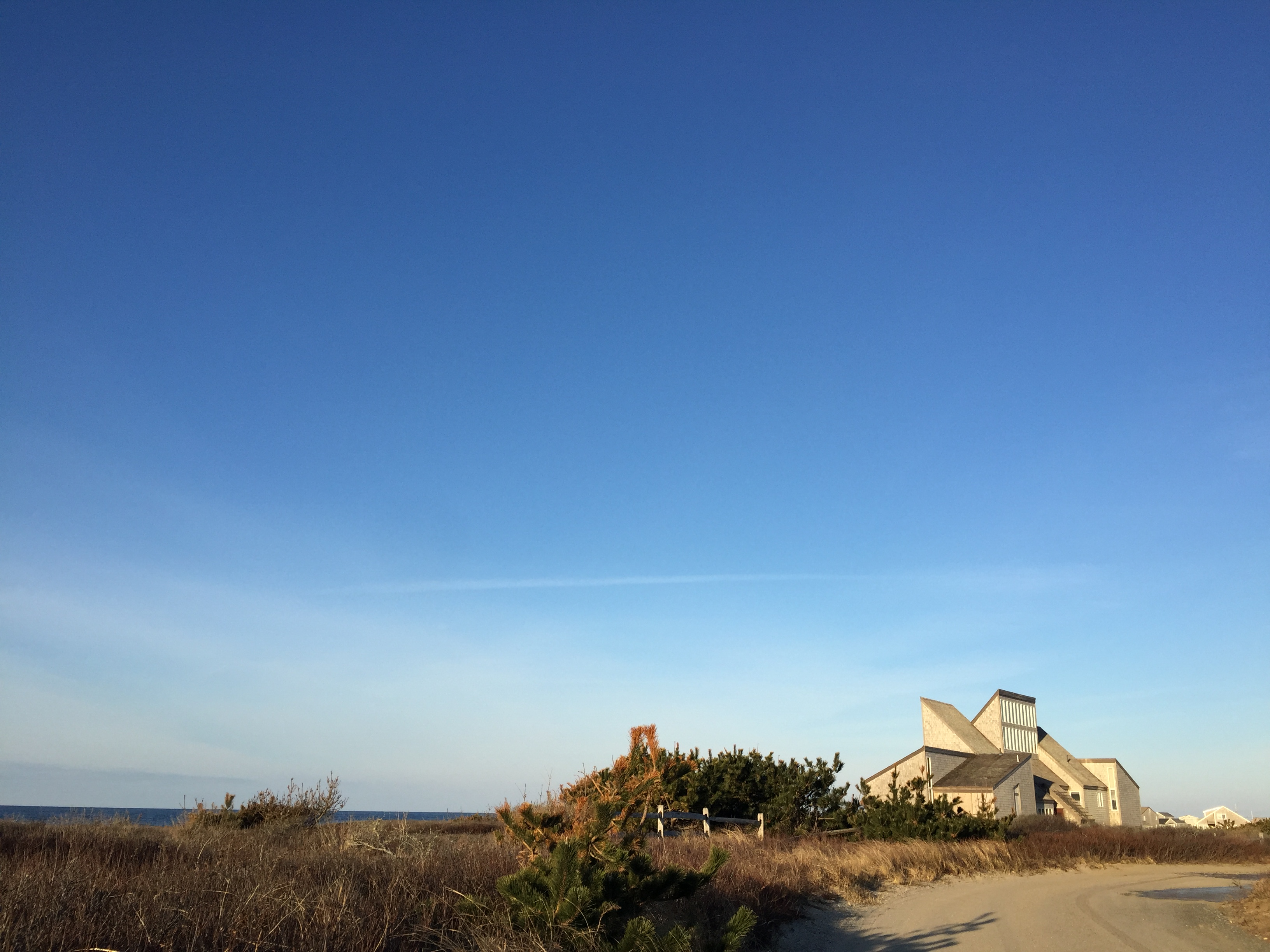 HDC guidelines for demolitions need to be updated
To the Editor: Soon, Madaket is likely to lose another
unique structure, this time an important example of
mid-20th Century architecture. Unlike other homes in
Madaket, the Jacobs House at 31 Starbuck Road will
not fall victim to the western shore's rapidly eroding
coast line, but instead to a flaw in our system of
approvals and permits which stems from a lack of
understanding about the need to protect the next
generation of Nantucket landmarks. The history of
many buildings is undocumented and, as it stands,
there is no burden on the owner and/or applicant to
provide a professional, unbiased assessment on the
historic or architectural importance of a structure prior
to HDC approval for demolition.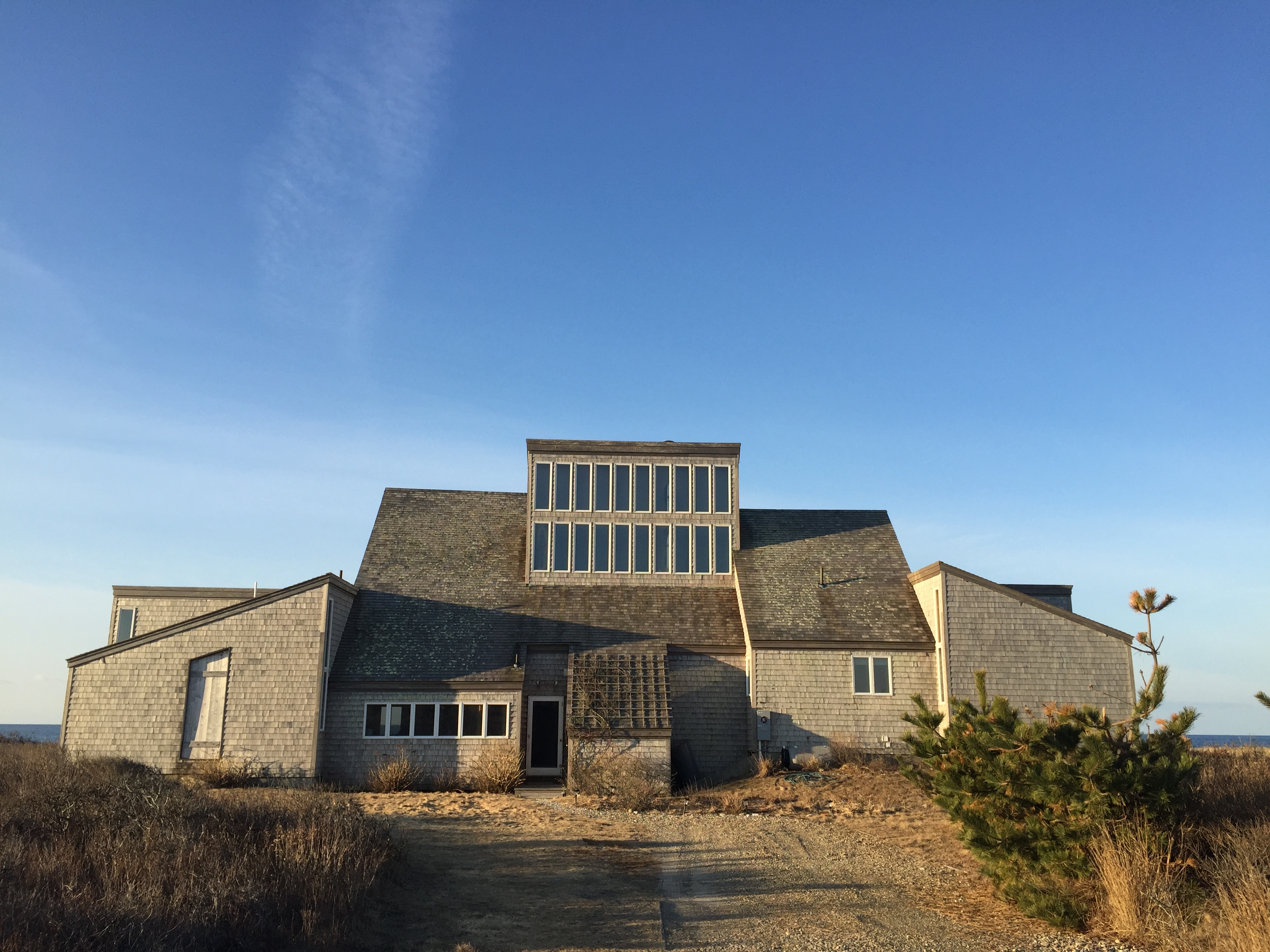 The Jacobs House, built in 1968 (now half a century
ago), was designed by renowned Boston architect
Frederick "Tad" Stahl (1931-2013), working with
former owner, artist and architecture student Marjorie
Jacobs. Stahl was best known for his work on the State
Street Bank, the restorations of Quincy Market and the
Old State House (all in Boston), and for designing over
25 community libraries in Massachusetts.The Jacobs
House is one of only two dwellings Stahl designed in
his entire career.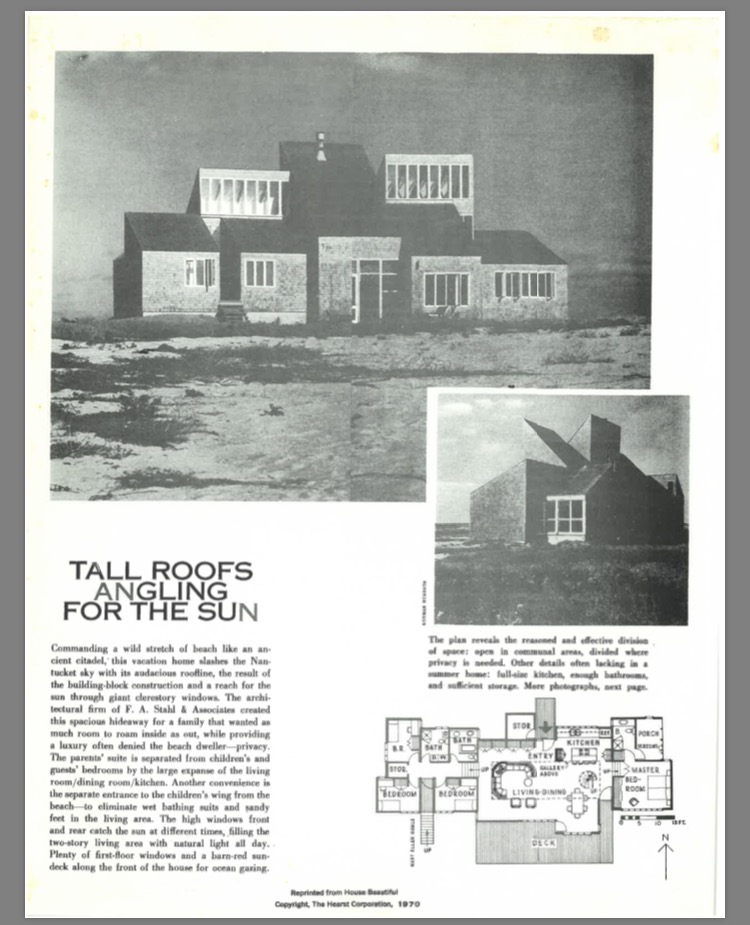 There is no question that the Jacobs House is unique.
Anyone seeing it realizes it is different than most
Nantucket houses. At the time of construction, many
felt it was out of character with the island's historic
architecture. But times change and in the past decade
communities throughout the country have embraced
landmarks of the 20th century. Today the Jacobs House
is one of the prime examples of mid-century modern
architecture on island. House Beautiful thought so as
well and profiled it in a 1970 issue, describing it as
"Commanding a wild stretch of beach like an ancient
citadel." And in the 1960 and 1970s, Madaket was
Nantucket's wild west, home to surfers and artists, to
Millie and Mr. Rogers. The Jacobs House represents an
important moment in Nantucket's history, when one
could take a risk, when the peaked roofs of a summer
house mimicked the ocean's roaring waves.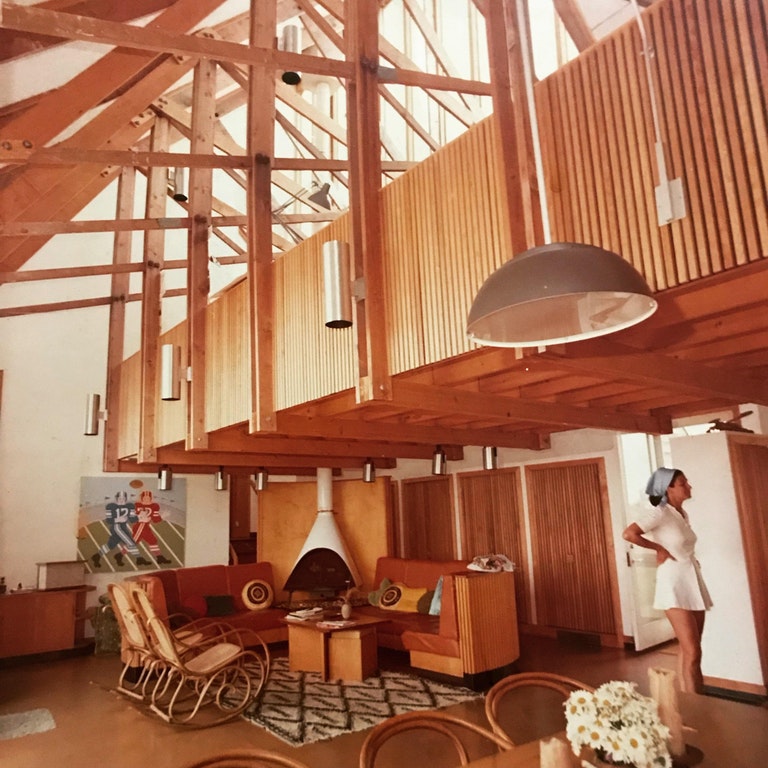 Stahl embraced contemporary designs, but was, above
all, a preservationist. Perhaps it is this fact that makes
the pending loss of the Jacobs House so distressing.
The HDC was established to protect the historic
architecture of Nantucket, and a significant building,
even one constructed in 1968, is part of that history. In
this instance, the Commission was not presented with,
nor did they gather all the facts before voting 5-0 to
allow for the demolition of the structure.
Nantucket has already lost many architecturally
interesting 20th Century structures (a house designed
by Philip Johnson and an early Buckminster Fuller
inspired house to name a few) and will lose more.
Their relatively recent dates makes it easy to dismiss
them but saving the best of the era, any era, is
important.
We urge the HDC to make changes in their
system to better document and to gather all the facts
about a building's past before demolitions are
approved. In many communities a preservationist on
the HDC staff is charged with undertaking historic
research, but when town resources are unavailable to
complete this work it should be the burden of an
applicant to prove that a structure, regardless of the
date it was built, is not of historic or architectural
importance if they desire to demolish it. Doing so
would enhance the HDC's mission to protect all of
Nantucket's historic architecture.
Michael May, Executive Director
& Mary Bergman
Nantucket Preservation Trust