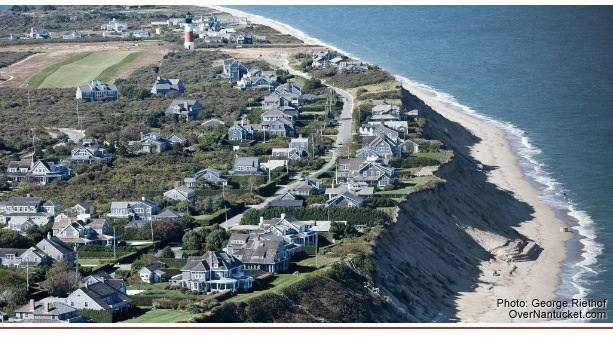 Historical District Commission

(HDC) appointed Executive Director, Michael May to the HDC

Workgroup

– a committee formed, as required by last year's Town Meeting. The committee will review and make suggestions for revisions to the HDC ordinance and guidelines and other matters that the HDC may find relevant. The appointment will run now through June 2014. The committee also will include Val Oliver, Steve Cohen, Jesse Dutra, Valerie & Rick Norton, as well as HDC commissioners Dawn Hill Holdgate and Linda Williams.
The Siasconset Beach Preservation Fund

(SBPF) recently made a step towards preserving Baxter Road and its structures. With a vote of 5-1 on December 4th Nantucket's Conservation Commission agreed to support the emergency bluff protection plan for Baxter Road. The goal of the plan is to preserve the 'Sconset Bluff along with the private homes and public infrastructure, which are located on it. Baxter Road is located in 'Sconset, which is home to many of Nantucket's historic buildings. At this time the application has been sent to the Massachusetts Department of Environmental Protection, which has 7 days to either approve or deny the application. For further information regarding this issue make sure to take a look at the SBPF Facebook Page –

CLICK HERE
ReMain Nantucket

recently purchased the Nantucket Town owned, Mooney Building located at 22 Federal Street. ReMain hopes to use the building in order to create classrooms, student lounge areas and housing for Nantucket based college programs. The Nantucket Preservation Trust welcomes two interns each summer from the The Preservation Institute (

PIN

). This field school, which is connection with The University of Florida gives students an opportunity to experience historic preservation hands on. Over the year's Nantucket has experienced growth of similar college affiliated programs. With ReMain's newest building purchase, programs such as PIN will hopefully have an easier time using Nantucket's unique resources in order to further the education of their students.