Angola Street is one of Nantucket's most charming narrow lanes, running from North Mill Street, near the Eleanor Ham Pony field, and connecting to South Mill Street. Despite its short distance, the street has a long history.
Angola Street is part of a neighborhood historically called New Guinea, near the Five Corners intersection. New Guinea was a multi-racial neighborhood, but Angola Street's name reflects that many Nantucketers of African descent made this part of the island their home. Angola is a nation on Africa's southwest coast, home to over 30 million people, making it the second largest Portuguese-speaking nation in the world, behind Brazil. Angola Street today is lined with late 20th and 21st century infill homes, but Angola Street was included in Isaac Coffin's 1799 list of Nantucket street names, and historic maps depict a variety of structures that have been replaced over time.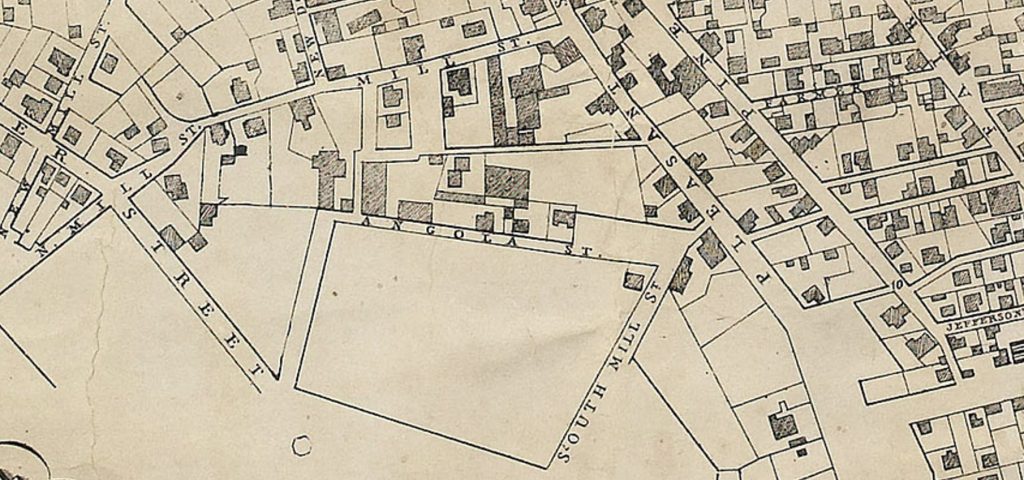 William Coffin's 1834 map of Nantucket shows six buildings on Angola Street, all of them along the north side of the street. The largest structure was on the western end, and spanned all the way to Candle House Lane, in the location of the Land Bank's Garden by the Sea park today. In an 1858 Nantucket map, this building is identified as an oil shed. Other buildings shown are a store house, another oil shed, and homes of A. Cooper, C. Coleman, and C. Cooper, with just one home on the street's south side. Angola Street of the 19th century was a busy place, a mix of residences and commercial buildings integral to Nantucket's whaling-based economy.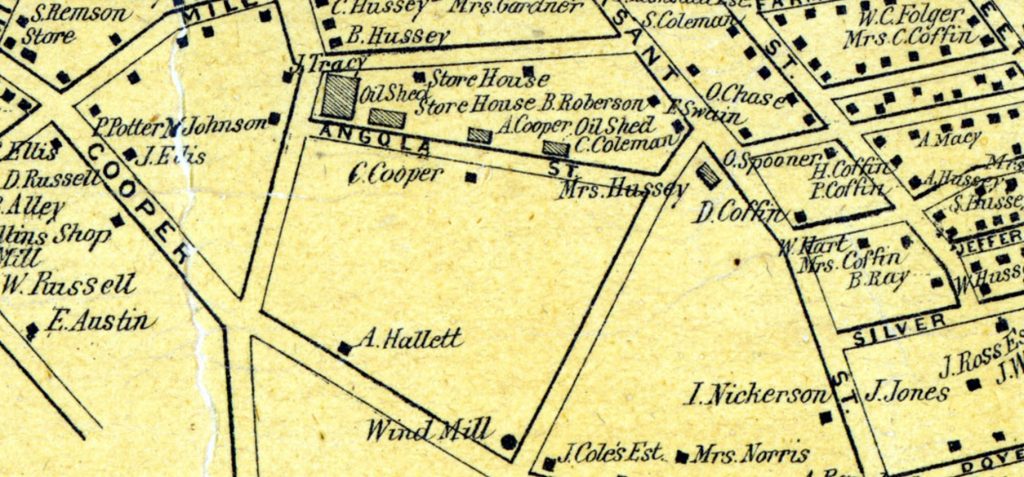 Angola Street is perhaps most famously associated with the A. Cooper whose house is on that 1858 map. Arthur Cooper first arrived on Nantucket in 1820, coming by way of New Bedford after having escaped slavery in Virginia. He resided on Angola Street with his wife Mary and their children. In 1822, a slave catcher named Camillus Griffith came to Nantucket in search of Arthur. Neighbors created a diversion so that the Coopers could flee to the Vestal Street home of the Gardner family, where they remained in hiding until an island judge ruled that Arthur could not be forcibly removed and Griffith departed the island. Arthur became one of the founding members of Nantucket's Zion Methodist Episcopal Church on West York Street, and lived the rest of his life, until 1853, on Angola Street.
The Cooper family house no longer stands. Gone too are the oil sheds, store houses, and other dwellings of the 18th and 19th century. The oldest building standing on Angola Street today was constructed in 1974. It's sadly not surprising that these commercial buildings and the homes of people of color were not preserved, and a reminder that, while we on Nantucket tell the stories of daring whaling captains and steadfast Quakers, there are many more stories that embodied in the built environment. In 2021, the Nantucket Land Bank, Nantucket Historical Commission, and the Museum of African American History, Boston and Nantucket, collaborated to dedicate a plaque to Arthur Cooper's legacy, and share his remarkable story to anyone who finds their way down the little lane by the Old Mill.
---