Nantucket Preservation Trust annually recognizes individuals and organizations who have undertaken projects that advance the cause of historic preservation on Nantucket. The awards recognize preservation work on historic buildings and landscapes, as well as those who protect and steward island resources.
NPT's Preservation Awards program is designed to show that a building or landscape can be sensitively updated while maintaining and preserving its historic integrity. NPT's Awards program emphasizes proper preservation, showcases the island's craftspeople, and reveals the foresight of owners who care about our historic structures and landscape.
Architectural Preservation Award
34 West Chester Street, Karli and Jim Hagedorn, homeowners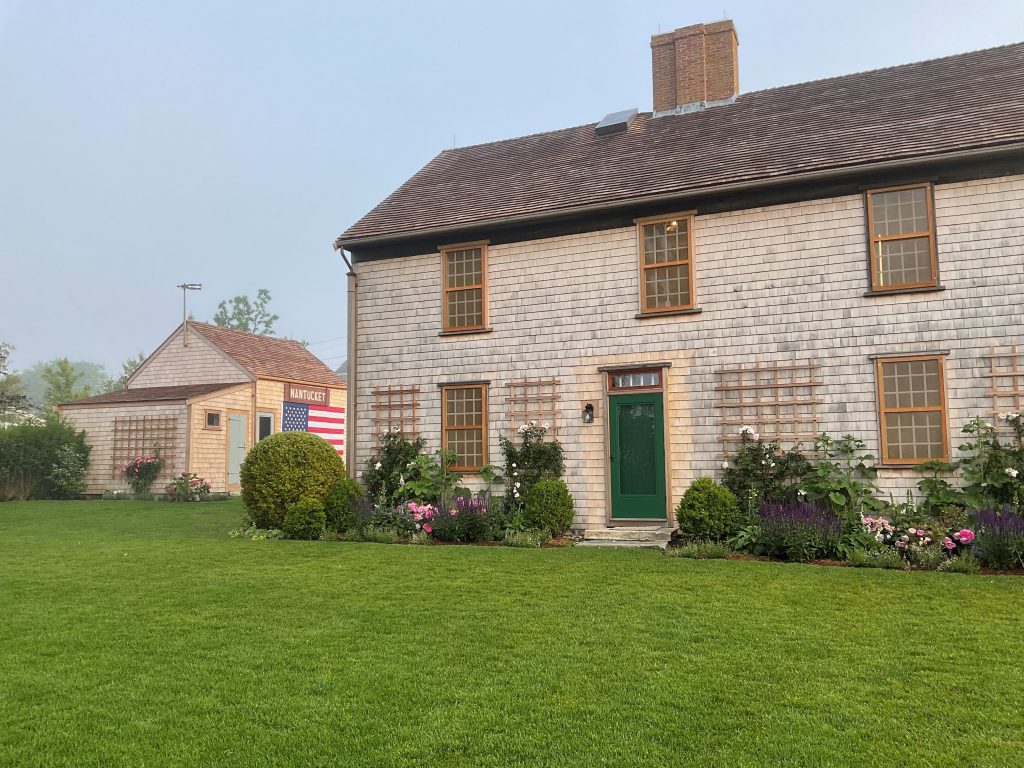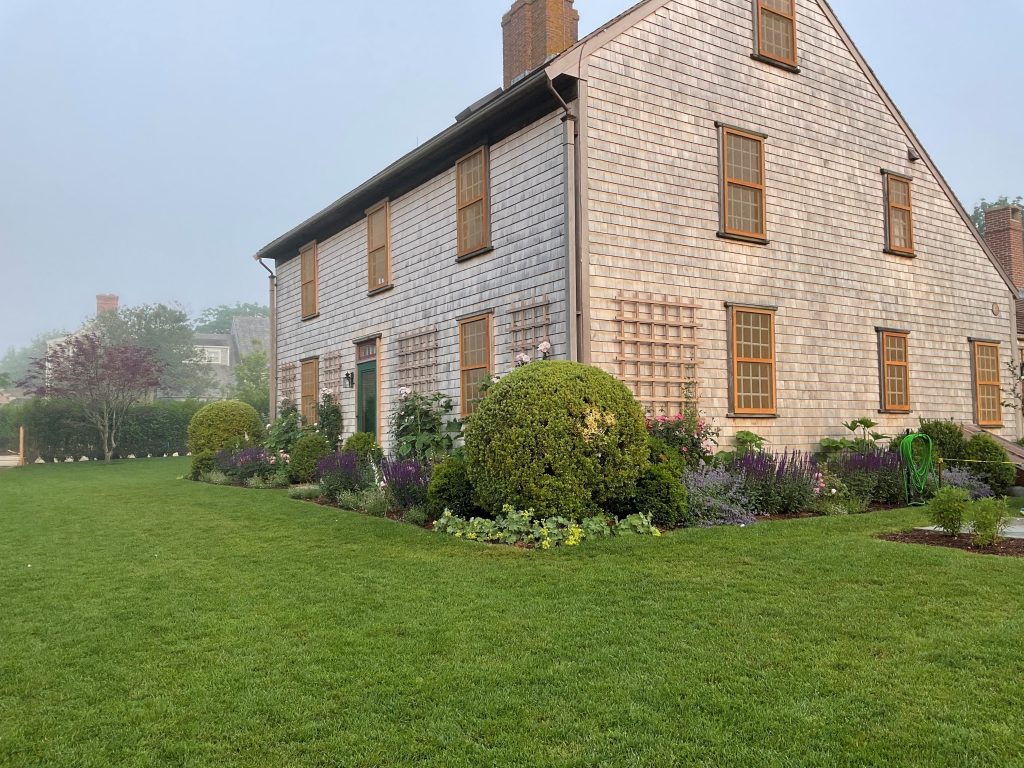 The Richard Gardner II House at 34 West Chester Street, one of Nantucket's oldest remaining vernacular timber-framed lean-to houses, constructed between 1722 and 1724, has been given fresh life for its next 300 years of occupancy. For decades it was the home of Jessica Woodle, who placed a preservation restriction on the property with the Society for the Preservation of New England Antiquities, now Historic New England, in 1994. Karli and Jim Hagedorn acquired the property in late 2020 and, working within the restrictions set forth by the Historic New England easement, they hired a team including designer Ben Normand, NPT award-winning masons and plasterers Pen Austin and Colin Evans, preservation carpenters Nathaniel Allen, Chris O'Reilly, and Hollis Webb to update the house for the 21st century while paying utmost attention to preservation of its historic building fabric. Main Street Construction were general contractors, The Dobbert Companies did HVAC work, and Kevin Dineen updated the electrical systems. All six fireplaces and their flues were restored, and parts of the timber frame that were rotted were replaced with white oak. The c. 1970 rear kitchen ell was reconfigured to be in keeping with the original time period of the house, and a new bake oven was built with historically appropriate details. All mechanical systems were upgraded using existing holes and chases, including adding a mini-split HVAC system, installed via a trench that was dug in the existing crawl space. Interior woodwork and flooring were hand sanded and refinished. Plaster walls were repaired as needed and painted with historically appropriate milk paint. Modern triple-track storm windows were removed, and new mahogany exterior storms were built to replace them. Carpenter Ben Moore, another past NPT award winner, constructed six plank frame windows to replicate existing windows where required. Jennifer Robinson of Historic New England oversaw work on the site to be sure it fit within the restrictions set forth in the preservation easement. Landscape architect Julie Jordin created a design for the site which complimented both the historic home and the adjacent Lily Pond. The work completed at 34 West Chester Street is a testament to how a home can accommodate modern conveniences while still preserving the highest degree of historic integrity.
John A. and Katherine Lodge Stewardship Award
The Nantucket Pharmacy, 45 Main Street, Allan Bell
Nantucket Pharmacy is a year-round cornerstone of Nantucket's downtown. Allan Bell purchased the Nantucket Pharmacy business from Wally Knott in 1977 and acquired the c.1847 building in 1983. Whether you're in need of a prescription refill, a greeting card, a bandage, a lipstick, a Nantucket souvenir, or an ice cream cone, you can find it at 45 Main Street. The historic doors and display windows, pressed tin ceiling, vintage counter stools, and the mid-century linoleum of the floors the all invoke memories and a feeling of stepping back in time. In 2007 Nantucket Pharmacy took over the business of neighboring Congdon's Pharmacy when it closed, and as many essential businesses have shuttered or relocated outside of downtown, Nantucket Pharmacy has remained stalwart.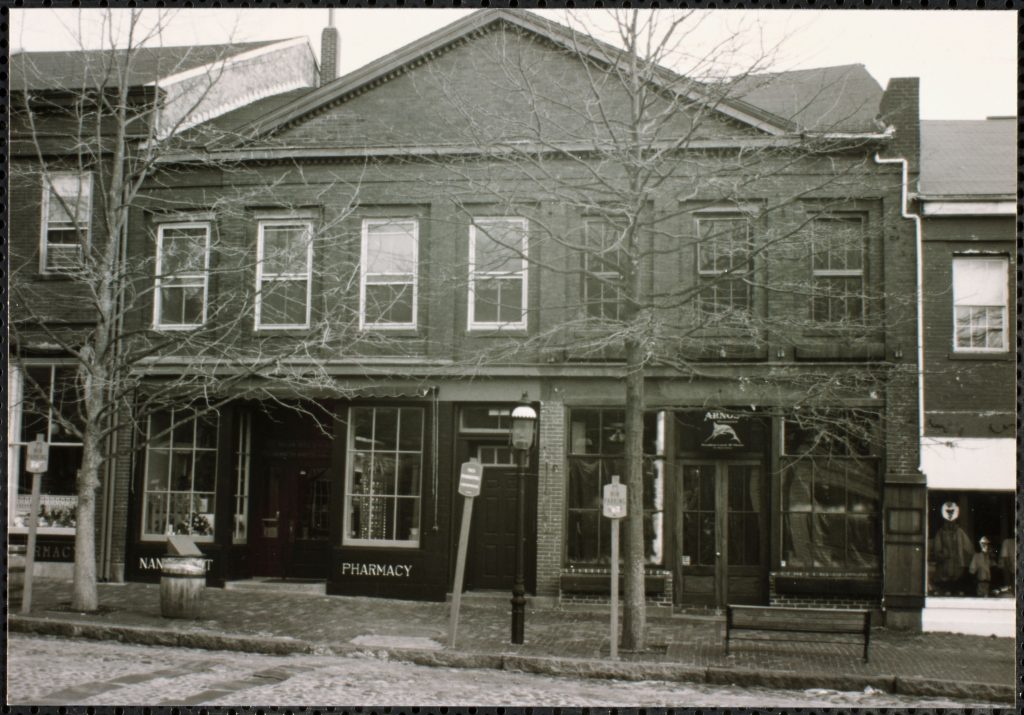 Traditional Building Methods
Colin Evans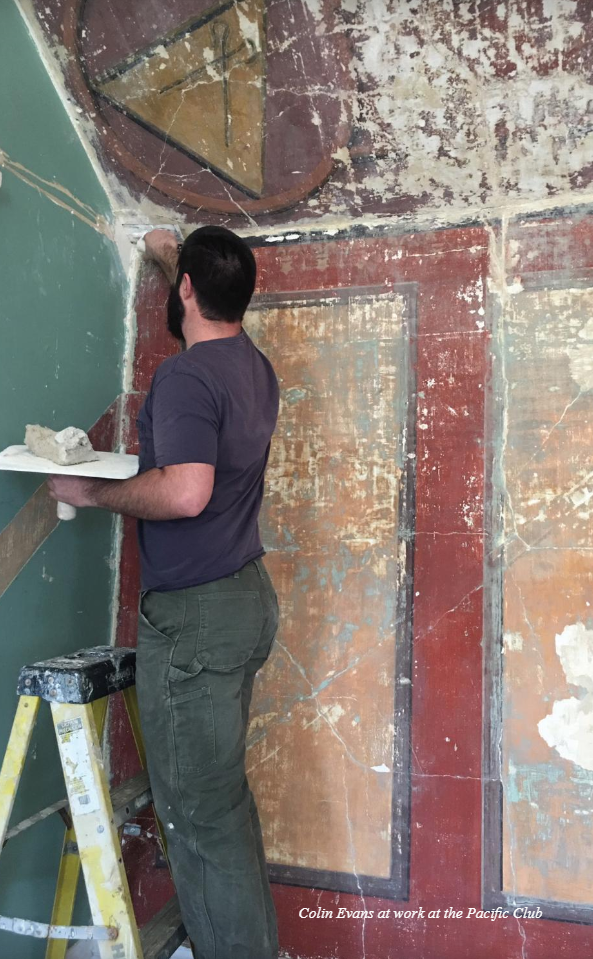 Mason and plasterer Colin Evans first came to Nantucket in 2013. He began working as an apprentice of Pen Austin, learning traditional methods of working with lime masonry and plaster from her decades of experience. In recent years he has built his own business, Colin Evans Preservation and Restoration LLC. A dedicated preservationist, Colin has worked on numerous award-winning restoration projects on Nantucket, including 34 West Chester Street, 84 Main Street, 86 Main Street, and 55 Union Street. He currently serves as the caretaker for the Pacific Club on Main Street and has worked off-island on such projects as a restoration of George and Martha Washington's tomb at Mount Vernon, alongside Pen Austin. After almost a decade of work on Nantucket, Colin continues to investigate his trade, materials used, and the histories surrounding the places he works.
Caroline A. Ellis Landscape & Garden Award
The Creeks Preserve, 174 Orange Street, The Nantucket Islands Land Bank & Lucile Hays
In 2019, Lucile Hays sold over eight acres of land at the Creeks to the Nantucket Land Bank, below its market value. The property at 174 Orange Street had been the Hays family retreat for decades, and in 2021, it was opened to the public as the Creeks Preserve. The new park facilitates stunning view of the harbor and Nantucket's historic downtown for all, via handicap accessible walkways. Parts of a late-20th century home were removed from the property, and a c. 1890s tea house remains on the property as a testament to its history. The Hays' guest house was moved to Fairgrounds Road, where today it provides housing for year-round Nantucket residents, and the garage was also reused. Horiuchi Solien Landscaping Inc. designed a landscape that is welcoming and incorporates many native plant species. The community benefit of an expansive, accessible park so close to the busy mid-island area will be enjoyed for generations to come.